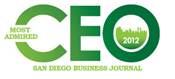 I am truly honored to be selected as a finalist for the prestigious San Diego Business Journal 2012 Most Admired CEO Awards.
San Diego, CA (PRWEB) December 12, 2012
The San Diego Business Journal Most Admired CEO Awards recognizes the most dynamic business leaders for their contributions and achievements within their companies and in the community. The finalists are renowned for being dynamic business leaders and role models, demonstrating insight yielding huge success for their organizations and taking the lead in driving their business and the local economy. Nominees represented public and private companies of all sizes, as well as nonprofit organizations and government agencies.
"I am truly honored to be selected as a finalist for this prestigious award." said Hampton. "It requires teamwork to make any business successful and I wish to share this award with my family, staff, our clients and business associates who deserve the recognition. Thank you for your support, hard work and belief in our mission to change the way schools and nonprofits support their causes."
Global Village Concerns believes in the principle of mutual benefit and shared value. The company developed the B1self platform (B1selfshop.com) to enable organizations to quickly and easily promote their message while driving incremental revenue to fund their cause. GVC provides a new brand identity for the client, exclusive branded merchandise, and the B1self platform to enlist and engage supporters.
About Global Village Concerns
Global Village Concerns is creating a fundamental shift in the way schools and non-profit organizations raise money, while increasing visibility and community support through B1selfshop.com, a unique social e-commerce platform that leverages online social tools to more effectively fundraise. Founded in 2009, Global Village Concerns is based in San Diego, CA. For more information, please visit http://www.globalvillageconcerns.com.