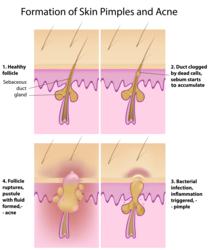 Some offices simply don't have the time or ability to handle all that's required with the program, so they look to other medications that are less strict. "It's a hard, but necessary program to comply with," says Rueckl.
Las Vegas, Nevada (PRWEB) December 31, 2012
Acne is one of the most frustrating conditions for people of all ages. While many people think of it as a "teenage problem", people can get acne at any age, and any point in life. And no matter what age it comes, people want it to go away fast.
"Considering the chronic nature of many patients' acne, Accutane (isotretinoin) is truly one of the best medications in all of medicine. It cures acne. Most medications for chronic diseases suppress the disease or symptoms. These medications are usually taken for the patients' entire lives. There are many examples of medications like this including high blood pressure and high cholesterol. Accutane isn't like these medications in that it only needs to be taken for a specific amount of time to achieve a cure rate. Many other acne medications, oral and topical, treat only active acne – and sometimes not all that effectively – so the cure rate doesn't exist. If patients stop these types of medication, the acne returns. Accutane cures acne," stated F. Victor Rueckl, M.D., Board-certified Dermatologist in Las Vegas, Nevada.
"Accutane came out in the early 1980s, and I have been using it to treat acne for 30 years. It is by far the most effective treatment for acne. Essentially it always works. Occasionally patients need a second or even third course but if taken in the proper doses it cures acne in 75-85% of patients with one course of treatment," says Rueckl.
Not all dermatology offices will prescribe Accutane. The Federal government became involved in the ability to dispense Accutane about seven years ago, implementing the iPledge Program. This program requires strict oversight from physicians, monthly patient visits, monthly pregnancy tests for females of childbearing potential, and dispensing of the medications by pharmacies within a tight time frame. Some offices simply don't have the time or ability to handle all that's required with the program, so they look to other medications that are less strict. "It's a hard, but necessary program to comply with," says Rueckl, "While there are specific steps and procedures, I'm willing to do them and willing to make my patients stick to them because the medication is simply worth it," Rueckl continued.
"Another problem with Accutane is the cost. Pharmacies charge $300-$800 for a one month's supply of isotretinoin. There are different brands of isotretinoin, and some can be as low as $10 a month with insurance, but the cost can be a hindrance to those without insurance. Isotretinoin brands include: Sotret, Claravis, Roaccutane, Amnesteem, Absorbica, and others. The brand-name Accutane is no longer in production," Rueckl explained.
The third issue stated about Accutane is the severity of side effects. In the past years there have been hotly publicized legal cases against the manufacturers of isotretinoin medications regarding Crohn's disease, bowel problems, liver problems, and depression. Dr. Rueckl states, "Do people with acne have depression? Absolutely. They come into my office devastated because they have acne. By the time they've finished the Accutane regimen, they are happy, healthy people again. But acne is simply devastating." New research has shown that the link between the other stated issues and isotretinoin may have been incorrect and overstated as well. "I've been on Accutane myself over the years; I've put all of my children on it and many of my family members," Rueckl comments. "I wouldn't do anything to harm any of them or myself, or any of my patients. Isotretinoin leaves your system quickly if you stop taking it; there aren't long-term side effects because the medication itself has a half-life of a single day." The skin side effects that all physicians will agree exist are dry skin (use a good moisturizer every single day, multiple times a day), dry lips (use Dr. Dan's Cortibalm with hydrocortisone in it), sunburns (apply a good sunscreen every day, no matter what), and dry eyes (any saline drops will help re-moisturize the eyes). And finally, fetal deformities absolutely occur if women become pregnant while taking isotretinoin. Females must remain on birth control or be abstinent while taking isotretinoin and for 30 days after.
One final and critical condition of Accutane's effectiveness is patient compliance. Patient compliance is always a hotly discussed topic amongst physicians, and it's key with isotretinoin as patients need to get a specific mg of the medication over a specific timeframe, or the regimen is ineffective. Rueckl commented, "I use a total dose of 1mg per kilogram of weight per day calculated for a 20 week course (5 months). However since I live in Las Vegas where the humidity is extremely low, I give my patients the total dosage over 7 to 10 months instead of 5. Extending the course makes the side effects much more tolerable." Other physicians are of the mindset to get as much medication in over the shortest amount of time, but this can lead to patients not liking side effects, stopping follow-up visits, and thus not getting a full course of the medication. "Often times I see patients who started on an isotretinoin course with another physician and come to me a year or so later. They will state they tried Accutane and it 'didn't work' but the truth is that they didn't do a full course because they got an initial breakout that scared them, they hated the drying side effects, they just weren't compliant" says Rueckl. "It's a fine line that we walk as prescribing physicians between what will work and what a patient will tolerate. Accutane is a great medication, but only if people are taking it as prescribed."
For more information about acne and various cures and remedies, contact http://www.acne.org. Their most recent blog is all about Accutane as well.