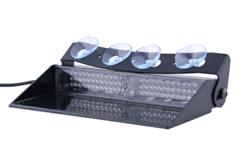 Brooklyn, NY (PRWEB) December 14, 2012
Emergency City, the one stop location for emergency vehicle products, today announced the start of its winter 2012 Facebook photo and contest. The contest allows Emergency City's customers along with fans of emergency lighting to put their vehicles "on display" and for Emergency City to see how customers utilize the products they have purchased.
Customers and emergency personnel can participate by becoming a fan of Emergency City on Facebook and then submitting their entries through the photo contest link on the Facebook fan page. Participants can submit photos of any type, make or model light that they have on their vehicle accompanied by a short description of what they are showing off. After the submission period ends, the entries will be gathered together for other fans to judge which photo or video have the best emergency lights.
After the votes, which will be determined by the amount of likes on each photo are counted, the winner of the contest will be notified, followed by a public announcement of the winner on the Emergency City Facebook page. The winner of the contest will receive one Police Lightz 2nd Generation PD72 Deck/Dash light in the choice of his/her color and the photo or video featured on the Facebook page.
"The Emergency City Winter 2012 Photo Contest is a way for us as a company to connect better with those who use our products every day across a wide range of industries. It gives emergency personnel the opportunity to show to us that they like the products on their vehicle that protect them under numerous conditions. We started as a customer driven company and seeing the products that we sell in action is very exciting," said Ariel Cohen Director of Marketing at Emergency City.
The Emergency City Winter 2012 Photo Contest on Facebook begins today, December 11, 2012 with entries being accepted through Saturday, December 22,2012. Followed by the entry period Facebook fans will have the opportunity to "like" their favorite photo from Sunday, December 23, 2012 through Saturday, January 5, 2013. Only current fans of Emergency City on Facebook will be able to submit entries and vote. To enter the contest, vote or just find out more details visit the Emergency City page on Facebook.
Whacker Technologies, Inc., is headquartered in Brooklyn, NY and is the parent company of Whacker Technologies, Police Lightz, and Emergency City. Whacker Technologies manufactures and sells interior and exterior police lighting, sirens and accessories for vehicles of many industries. For more information please visit http://www.whackerusa.com.