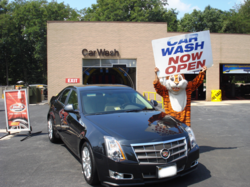 We thought it was a fun way to both give back to our loyal customers and help a great local charity in the process,
Ryan Daggle
Columbia Car Wash and Detailing
COLUMBIA, MARYLAND (PRWEB) December 14, 2012
Columbia Car Wash and Detailing, a full service car wash and auto mechanic shop in Columbia, Maryland, will be giving away free basic car washes during its regular hours of operation on December 20, 2012.
In exchange for the free basic wash, all patrons are encouraged to donate non-perishable food items. All donations collected will be given to the local Maryland Food Bank of Halethorpe, Maryland.
The campaign was the brainchild of Columbia Car Wash and Detailing owner, Ryan Daggle.
"We thought it was a fun way to both give back to our loyal customers and help a great local charity in the process," said Daggle. "Just an different way we could raise awareness in the community about the great work being done at the Maryland Food Bank."
The Maryland Food Bank describes the most needed items this holiday season are canned meats, canned vegetables, canned fruits, canned dairy products and pasta.
According to the Mayan civilization, December 21, 2012 marks the last day of its 5,000 year calendar. Some believe this will be the end of the world, others have struck down this belief as myth.
ABOUT MARYLAND FOOD BANK
The Maryland Food Bank was founded in 1979 as the first food bank on the East Coast. Its mission is to lead the movement and nurture the belief that together we can improve the lives of Marylanders by ending hunger. The Maryland Food Bank has facilities in Baltimore, Washington and Wicomico counties, comprising more than 125,000 square-feet of warehouse space. Last year, the Maryland Food Bank distributed 26.1 million pounds of food to a network of 600 soup kitchens, pantries, shelters and other organizations across the state.
ABOUT COLUMBIA CAR WASH AND DETAILING
Columbia's only full-service and family owned car wash. Located on the corner of Little Patuxent Parkway and Banneker Road in the heart of Columbia, the lot offers a wide range of services including: full service brushless car wash, interior and exterior auto detailing, window tinting, certified Maryland state auto inspections, auto mechanic repair shop with 12 bays, rental cars, Goodyear tire distributor, convenience store, Exxon gas station, coin vacuum machines, and Waterloo Pizza and Subs. The business services residents of Columbia, Ellicott City, Laurel, Clarksville, Fort Meade, Elkridge, Catonsville, Jessup and Baltimore and more.