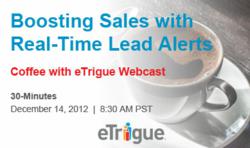 Boosting Sales with Real-Time Lead Alerts - Webcast on December 14th
San Jose, Calif. (PRWEB) December 12, 2012
eTrigue® Corporation (http://www.etrigue.com), the ease-of-use leader in marketing automation Software-as-a-Service (SaaS), announced it will be providing a live educational webcast on Boosting Sales with Real-Time Lead Alerts. This fast-paced 30-minute webcast will discuss real-time lead alerts, and how they may be configured to alert sales personnel in real-time about important website visitors. Real-time lead alerts are a key marketing automation capability and can significantly boost sales engagement, conversion and revenue. Jim Meyer, vice president of eTrigue will cover the why, and how of this this must-have marketing capability.
Topics to be covered on this webcast include what makes real-time lead alerts possible, why real-time lead alerts can increase sales connection rates by as much as ten times and how organizations are leveraging real-time lead alerts to outperform their competitors.
This webcast is part of the Coffee with eTrigue series of educational webcasts conducted by eTrigue's Jim Meyer. This session is open and complimentary to marketing and sales professionals, as are all Coffee with eTrigue webcasts.
Reserve your complimentary seat at: http://ww2.etrigue.com/lp/webinar/12142012/boost-sales.html
About eTrigue Corporation
eTrigue is a leading provider of marketing automation SaaS products that accelerate the way marketing and sales teams generate qualified leads and close sales. The DemandCenter® marketing automation platform helps marketers build more successful demand generation programs that target, nurture and qualify prospective customers based on their digital biography, and give sales and marketing teams the real-time sales intelligence they need to identify, prioritize and effectively interact with prospective customers. For more information please visit http://www.etrigue.com or call 1-800-858-8500.
eTrigue, DemandCenter, SalesPro, Intelligent Demand Generation and Marketing Automation for the Rest of Us are trademarks or registered trademarks of eTrigue Corp.