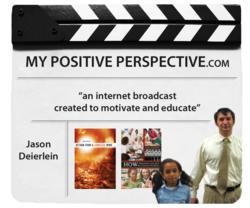 we are looking forward to this partnership and seeing what can be accomplished
Charleston, SC (PRWEB) December 14, 2012
My Positive Perspective has formed a partnership with the Charleston, South Carolina, based Internet Radio production company, "Kinetic Hi-Fi." Jason sees this new partnership as "…a means to celebrate the achievements of his Talk Show Guests, the local community in and around South Carolina, and the entire World Wide Web."
December 2012 marks the end of My Positive Perspective's "Season One" programming with episodes as varied as "How to Make Money in the Music Industry" to "Charleston Autism Awareness Events."
To celebrate his new partnerships for the upcoming "Season Two" and a new business relationship with Kinetic Hi-Fi Radio, Jason Deierlein states, "Hosting concerts and having an ability to send them across the world via the Internet, is something I have always envisioned happening as our business grows. The concerts are going to be fun for everyone,highlight the talents of both new and well-established Artists…and they just make sense. We all need encouragement in these trying times as music is something wecan draw on for a more positive perspective!"
My Positive Perspective is scheduled to be hosting a new show each week on KineticHi-Fi Radio Station in 2013; from 6-7 P.M.
The live concert on December 15, 2012 features musicians Estee Gabay and Adam Seigler. Both musicians had their music played on Season One of My Positive Perspective.
Kinetic Radio station founder, Boyd Strough, said of the concert, "We are really looking forward to this live event. It should be a lot of fun to seewhat we can accomplish."
You can tune in to the December 15, 2012 live concert by going to http://www.kinetichifi.com/ and clicking on the "listen now" tab.
"Through My Positive Perspective, I hope to educate and empower people so they can believe in themselves and overcome any challenge, no matter how big."- Jason Deierlein
My Positive Perspective is an internet talk show created for the purposes of overcoming adversity. We educate and inspire in many different ways and talk about different types of obstacles, but the ultimate goal of this business is to spread positively and strengthen wherever there is a weakness or tragedy to overcome. I myself survived a car accident, coma, and painful rehabilitation. I consider myself lucky to be here and providing the public with this free service. This company is kind of my gift to myself for achieving. The one thing you never lose after surviving a tragedy is desire to help.
http://mypositiveperspective.com/