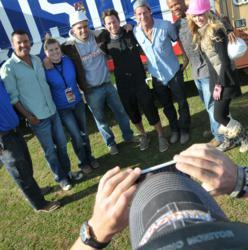 Arlington, VA (PRWEB) December 11, 2012
Emmy Awarding Winning Show Retraces Steps of Shilo Harris to USO Warrior Center in Germany and Donates Three USO Mobile Entertainment Gaming Systems to Troops Overseas
Two-Hour Special to Re-Air on Sunday, December 16 (4:00-6:00 p.m. ET) on ABC.
ABC-TV's Emmy Award-winning hit reality show "Extreme Makeover: Home Edition" (EMHE) recently returned to primetime with a series of holiday-themed episodes with Ty Pennington and the team of designers. Airing last night as the third of four ABC specials was the "Harris Family," which not only featured the USO and its effort to help our nation's wounded, ill and injured servicemen and women, but also served as a nationwide reminder to support our wounded veterans.
Struck by a massive IED while on patrol in Iraq in February 2007, Staff Sergeant Shilo Harris of Smithville, Texas, sustained devastating injuries, including burns to over 40% of his body. Following months of painful therapy and countless surgeries, Shilo and his wife, Kathreyn, found their calling in life - to help wounded warriors through the agonizing and traumatic process of recovery, rehabilitation and the discovery of their new normal. Now a motivational speaker, Shilo, and his wife have shared their story countless times and recently served as speakers at the USO Caregivers Conference.
Moving on past that fateful day, the Harris Family home was in desperate need of a renovation – failing to protect him from the dangerous elements of dust and heat. Despite being a hero who was disfigured in service to his country five years prior, he could not find respite in his own home. In just seven days, the EMHE built a new home for Staff Sergeant Harris and his family, as they were whisked away on a dream vacation to Germany. Led by team leader Ty Pennington, designers Paige Hemmis, Michael Moloney, Xzibit and Ed Sanders, along with local builder Morgan's Wonderland and Helping a Hero, military charity the USO and community volunteers, all chipped in to lend a helping hand.
There to provide emotional support and logistical coordination, the USO escorted the Harris Family to Germany and helped Staff Sergeant Harris and his family retrace their steps of recovery. During their time in Europe, the group visited with recovering warriors and old friends at Landstuhl Regional Medical Center, and spoke with fellow healing heroes at USO Warrior Center. Meanwhile, back in Texas, hundreds of USO San Antonio volunteers energized the crowd and assisted with the taping, and the EMHE design team donated three Mobile Entertainment Gaming Systems (MEGS) to troops overseas. The USO Mobile was also onsite offering up shade, tours and passing out giveaways to spectators.
Adding to the excitement was J.R. Martinez, actor/motivational speaker and former U.S. Army soldier, who made a special appearance as well as country music superstar/USO tour veteran Lee Greenwood, who performed "God Bless the U.S.A." in this moving holiday-themed tribute. The EMHE "Harris Family" episode is set to re-air on Sunday, December 16 (4:00-6:00 p.m. ET) on ABC and is also available online at http://abc.go.com/shows/extreme-makeover-home-edition.
The USO's support of wounded, ill and injured troops, their families and caregivers encompasses many critical facets of life, including physical and recreational activities, behavioral health, family strengthening, education and employment transition, and community reintegration support. The USO developed a comprehensive long-term program, USO Warrior and Family Care, to support the continuum of care that will give these families a broad array of programs to help them throughout each stage of their recovery. Through USO Warrior and Family Care, the USO also partners with best-in-class organizations to best serve those these families.
For more information about the USO and its efforts to help our nation's wounded, ill and injured servicemen and women, visit http://www.uso.org/warriorandfamilycare.
# # #
About the USO
The USO (United Service Organizations) lifts the spirits of America's troops and their families millions of times each year at hundreds of places worldwide. We provide a touch of home through centers at airports and military bases in the U.S. and abroad, top quality entertainment and innovative programs and services. We also provide critical support to those who need us most, including forward-deployed troops, military families, wounded warriors and their families and the families of the fallen.
The USO is a private, nonprofit organization, not a government agency. All of our programs and services are made possible by the American people, support of our corporate partners and the dedication of our volunteers and staff. In addition to individual donors and corporate sponsors, the USO is supported by President's Circle Partners: American Airlines, AT&T, Clear Channel, The Coca-Cola Company, jcpenney, Kangaroo Express, Kroger, Lowe's, Northrop Grumman Corporation, Procter & Gamble, and TriWest Healthcare Alliance and Worldwide Strategic Partners: BAE Systems, The Boeing Company, Lockheed Martin, Microsoft Corporation and TKS Telepost Kabel-Service Kaiserslautern GmbH & Co. KG. We are also supported through the United Way and Combined Federal Campaign (CFC-11381). To join us in this patriotic mission, and to learn more about the USO, please visit uso.org.