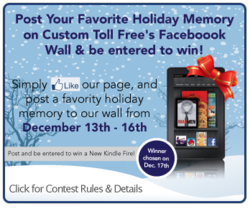 "The Holiday Memory contest is a fun way to show appreciation to our clients and Facebook followers." -Christy Green, VP of Sales & Marketing
Mill Creek, WA (PRWEB) December 12, 2012
Everyone has their share of interesting holiday stories and Custom Toll Free wants to read them. And for the best stocking-stuffing and chimney-crushing memory—no matter how mirthful, joyful or embarrassing—there could be a Kindle Fire delivered right to your door. Users can simply share their best holiday story directly on the wall of the official Custom Toll Free Facebook page between December 13th and the 16th for a chance to receive a Kindle Fire.
Whether it's for a non-profit or a vital service, for information or outreach, government or business, Custom Toll Free provides outstanding expertise, service, and solutions for all toll free number clients around the clock. And when it comes to bringing that holiday cheer, this contest is certain to add a little more warmth to that fireplace and a little spice to that eggnog with this unique gift. "The Holiday Memory contest is a fun way to show appreciation to our clients and Facebook followers," says Christy Green, VP of Sales and Marketing at Custom Toll Free.
Following the success of last July's previous Kindle Fire giveaway, Custom Toll Free wishes to continue to reach out to customers and give more, especially during a time of giving. With a proven track record of building better businesses through vanity branding, tailored solutions toward improving accessibility, and inventing new options for businesses to improve their respective outreach, this holiday giveaway is Custom Toll Free's way of showing appreciation for the dedicated gratitude and interest shown through the years by customers.
Be sure to "like" Custom Toll Free on Facebook and share your story between December 13th and the 16th for eligibility.
About Custom Toll Free:
Custom Toll Free has established itself among the cream of the toll free service crop, leading by example in developing the most advanced and efficient means of taking on today's technology. With technological advancements coming at a particle pace, Custom Toll Free excels through the implementation of time-tested techniques. Custom Toll Free has helped several large brands with their business phone service. A selection of service additions, including the reverse look-up feature, a premium affiliate program, and other amenities has proven to improve web presence and provide a more dynamic experience for visitors alike.