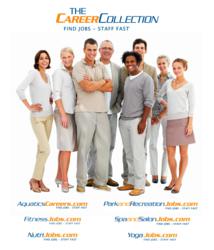 You would be hard-pressed to reproduce the quality of life you can lead when you work in these industries.
Prescott, AZ (PRWEB) December 14, 2012
Thousands of employers throughout the United States use The Career Collection™ job boards to post everything from entry level part-time jobs to all types of full-time opportunities in fitness, aquatics, nutrition, park & recreation and spa & salon, filling the desire for anything that one is passionate about. While working in this health-focused arena, employees can get fit and remain healthy allowing them to sustain a lifestyle that has one feeling better, looking better and doing more.
Alan Cohen, founder and CEO of The Career Collection™, entered into the niche job board business 13 years ago with FitnessJobs.com. With the high demand for staffing in the health, fitness, recreation and spa industries and with the explosion of baby boomers searching for their second calling, he has since added AquaticsCareers.com, NutriJobs.com, ParkandRecreationJobs.com, SpaandSalonJobs.com and YogaJobs.com.
Cohen, who has worked in the fitness industry for over 30 years, admits that one of the best reasons to work in the recreation and leisure industry is to have access to the finest clubs, resorts and recreation amenities in the United States. "You would be hard-pressed to reproduce the quality of life you can lead when you work in these industries," Cohen says.
Job seekers can use all 6 sites in The Career Collection™ for free to search jobs, post resumes or set up job alerts - where your perfect job automatically finds the job seeker. Employers who use the site to post jobs do so for a fee and collect resumes by email or by candidates applying online through their corporate career site.
Job seekers who are new to these industries would benefit from an eBook Cohen recently completed: "How to Land Your Dream Fitness Job – A Complete Guide to Finding Your Dream Job in the Health and Fitness Industry". Also included with the purchase of the eBook is the "Interviewing Tool Kit" which includes 12 job descriptions created specifically for the health and fitness industry, plus corresponding interview questions to prepare candidates to ace their interview. For more information go to http://www.LandYourDreamFitnessJob.com.
About The Career Collection™
FitnessJobs.com was started by Alan Cohen in 1998 as the first site available to job seekers and employers specializing in the health, fitness, recreation and leisure industries. Over the years it grew to be a related 'collection' of websites that now encompass six integrated job boards. Its model as a recruiting resource for employers and job seekers is designed to be comprehensive, easy to use, cost-efficient and fast.
The Career Collection™ continues to serve the health, fitness, recreation and leisure industries to satisfied customers all over the United States. Personalized advice is available to all employers to ensure their recruiting dollars are maximized when looking for the industries top talent. For more information about The Career Collection products and services call 800-259-4397.