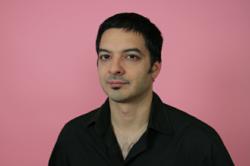 Men need to be working on improving themselves long before they try to approach women.
San Mateo, CA (PRWEB) December 18, 2012
Believe it or not, the ability to effectively walk up to a woman and strike up a conversation is not something men are necessarily born with, and that is why there is no shame in a guy learning tips on the best way to meet, talk to, and attract women, says Dating Expert Carlos Xuma in his new report.
"Some guys feel ashamed or guilty about seeking advice in the dating world, but the smart men know that wisdom is what makes the difference between success and failure with women," Xuma says in his report on tips to approach women. "They've done studies showing that intelligent people grossly underestimate their intelligence and that less intelligent people grossly overestimate their intelligence. In other words, men who know they don't have all the answers and all the skills to attract women are the ones who aren't afraid to seek help and improve their dating game."
Learning and perfecting a few tips on approaching women make the difference between an evening alone and time spent with a woman, Xuma says.
One of the tips given in the report on how to approach women is for men to first work on their alpha male traits before they even leave the house, he says.
"What that means is that men need to be working on improving themselves long before they actually walk up to a woman and try to approach and attract her," Xuma explains. "There are some basic characteristics and foundations that need to be laid that allow a guy to approach women with confidence and self assurance."
According to Xuma, the best way to lay that foundation is for a guy to take an honest, hard look at himself.
"It helps to do an honest assessment of what a guy's strengths and weaknesses are," Xuma says. "This helps him to figure out what areas might be holding him back and what strengths he might not realize he has."
For instance, a guy's drinking habit might be causing him to act foolishly in public and not show his best self
"Or a guy who has fear of speaking to strangers might realize this is an area he needs to work on if he wants to approach women with ease," Xuma says. "Half the battle in self improvement is recognizing the areas where someone can improve and then taking that first step."
Carlos Xuma has also been recognized for his work sharing dating advice for guys; tips on pick up artist techniques, alpha male behavior, and how to talk to girls. Xuma is also the author of The Bad Boy Formula, Secrets of the Alpha Male, the Girlfriend Training Program, and numerous other books and articles. He has been a dating expert and attraction adviser for more than 10 years and has appeared on ABC and CBS television, as well as Playboy radio. He has spent years teaching hundreds of men how to attract and approach women, and shares dating advice for men on his website at http://www.attractwomen.com.
For more information, visit Carlos Xuma's website at http://www.carlosxuma.com.