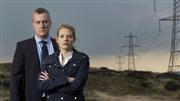 Miami, FL (PRWEB) December 13, 2012
WPBT2 will premiere the Left Bank Productions crime drama series DCI Banks beginning Thursday, January 3 at 9 pm. Stephen Tompkinson (Father Peter in Ballykissangel) and Andrea Lowe (Lady Eleonore Luke in The Tudors) star as tenacious Chief Inspector Alan Banks and feisty Detective Sergeant Annie Cabbot in seven thrilling crime stories.
The Yorkshire countryside provides a striking backdrop to these chilling murder stories based on the Inspector Banks novels by award winning author Peter Robinson. With Andrea Lowe taking maternity leave during the second series, Stephen Tompkinson is joined by actress Caroline Catz (headmistress Louisa Glasson in Doc Martin) in the role of DI Helen Morton.
On ITV1 in the UK, the DCI Banks pilot secured an excellent 6.8 million viewers and 24.4% share in its premiere, surpassing ITV1's slot and prime time averages, while ranking first in its time slot. Subsequent episodes performed similarly well with series two easily winning its time slot against all competition with one million viewers more than its nearest rival among all viewers 4+.
DCI Banks repeat broadcast is on Saturdays, 11pm, beginning January 5, on WPBT2.
For press materials and to view trailer, visit
http://www.wpbt2.org/pressreleases/PR20121207dci_banks.html