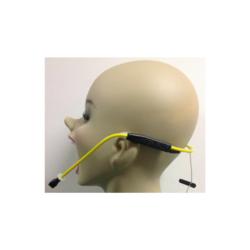 you shouldn't have to sell your first born to be able to afford a good quality microphone
Oswego, NY (PRWEB) December 13, 2012
As anyone who has ever taught aerobics or a fitness class knows, yelling and shouting on a regular basis can not only cause episodes of hoarseness and sore throats but can also have long term affects, such as throat polyps or vocal cord nodules. There are trainers out there that can teach an instructor how to use their voice more effectively but they can be costly and time consuming. The simple solution is headworn fitness microphones. Headworn microphones are not something new; they have been around for several years. High end extreme sweat proof fitness microphones typically priced for celebrity & professional fitness icons are now being made available in a more consumer friendly market. Waterproof & sweat proof headworn microphones such as the Spinmic® by Mazuk Technologies are becoming the standard to help protect fitness instructor's voices. These types of microphones used to cost upwards of $500.00 but now have been made available for around $300.00. Companies who specialize in fitness microphones are now reaching out to the aerobics instructors and incorporating their needs into new designs while keeping cost down.
In a recent interview John Masuicca from fitnessmics.com stated "Several years of research and development has gone into the new designs of headsets. The main main focus is affordability; Instructors shouldn't have to sell their first born to be able to afford a good quality microphone."
Fitnessmics.com has complete fitness microphone systems starting at $100.00 and yes, that gets you everything you need to start teaching the minute you receive your system. Professional sweat proof systems run about $450 which is about $200.00 less than they were a year ago.