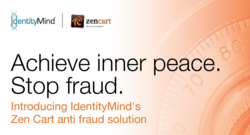 We are very excited about integrating our groundbreaking anti fraud and risk management platform and make it easily accessible and available to all Zen Cart customers
Palo Alto, CA (PRWEB) December 13, 2012
IdentityMind™, the evolutionary on-demand anti fraud and risk management platform, today announced the release of the IdentityMind™ Zen Cart™ add-on.
IdentityMind's Zen Cart™ add-on enables merchants to protect their Zen Cart online store from fraudsters. The module itself is free, and IdentityMind™ offers a very flexible pricing accommodating small and medium business as well as Enterprise customers. All IdentityMind™ features and its comprehensive set of partners are available to all merchants using Zen Cart, regardless of their transaction volume.
"Zen Cart™ is one the most popular shopping carts, focused on ease of use and simple installation. We are very excited about integrating our groundbreaking anti fraud and risk management platform and make it easily accessible and available to all Zen Cart customers" said Garrett Gafke, President & CEO. "Following Zen Cart's approach we've developed a very easy to integrate top of the line anti fraud solutions, customers can start protecting their store in minutes, it is that simple".
IdentityMind's Zen Cart add-on integrates real time anti fraud into the order processing flow. The anti fraud recommendation: accept, deny or manual review is part of the transaction flow, and merchants can use this to decision a transaction – all in real time and within the Zen Cart interface in the actual order's context. Merchants also have access to IdentityMind's analysis and reporting interface should they need more information or need to access on-demand third party services like identity verification, out of band authentication, phone and/or email verification.
"We continue developing modules that make anti fraud accessible to all. Zen Cart is a widely used shopping cart worldwide. Now their users can integrate our platform and be protected from fraudsters." said Jose Caldera, IdentityMind's VP of Platform Management. "With this integration we've also expanded our support for payment methods, with support for Google™ Checkout, and support for many Payment Gateways ".
For more information visit us at Zen Cart and eCommerce Protection resources website.
About IdentityMind™
IdentityMind™ is an on-demand anti fraud and risk management platform. IdentityMind™ helps online merchants and Payment Service Providers (PSP) stop fraud while maximizing accepting good transactions and minimizing manual review costs. IdentityMind™ tracks Internet Identities based on its patent-pending IdentityMind eDNA™. Internet consumers are passively challenged by comparing the eDNA™ of the owner of the card to the eDNA™ observed at the time of the transaction. Identities are matched across devices, payment instruments, geolocations, etc.
For more information, visit http://www.identitymind.com or email pr(at)identitymind(dot)com
© 2012 IdentityMind. All rights reserved. IdentityMind, IdentityMind Platform, IdentityMind eDNA, and the IdentityMind logo are trademarks or registered trademarks of IdentityMind, Inc in the United States and other countries. All other brand, service or product names are trademarks or registered trademarks of their respective companies or owners.
Media Contacts: IdentityMind Email: pr(at)identitymind(dot)com