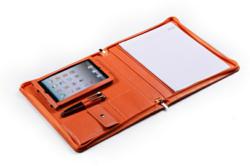 Fort Lauderdale, FL (PRWEB) December 13, 2012
Just in time for the holidays, Xiao Zhi announced this week the release of its new iPad and iPad Mini leather cases. The genuine leather cases from designer Xiao Zhi are a brand-new line of versatile leather cases designed specifically to protect the newest devices from Apple.
A leader in leather case design and construction, Xiao Zhi specializes in custom-designed and unique cases and portfolios that provide protection while also incorporating convenient "extras" like roomy pockets, folders and other features geared toward making life a little easier. The new iPad and iPad Mini cases is no exception.
Like its other leather case designs, Xiao Zhi's new line of case designs run the gamut, from sleeves to portfolios to envelope-style covers, and many feature unique embossing and trim details designed to set these cases apart from the crowd. Like its earlier offerings and its cases designed for tablets and laptops, the new iPad and iPad Mini line offers customers popular tried-and-true standards like rich leather embossing and timeless crocodile trim, as well as fashion-forward options like ostrich-foot patterned Italian leather and snakeskin print horsehair.
About Xiao Zh
The nod to fashion is just one element of Xiao Zhi's mission. Since its beginnings as a popular Etsy e-tailer, the design company has built a steady following of customers and fans by relentlessly tweaking its designs to make each new line even more stylish and convenient than the last. Featuring notepad and pen holders, heavy-duty, easy-slide zippers and an array of pockets, Xiao Zhi's newest designs could be the perfect gift for electronics lovers this season, and the company says the cases have proven especially popular as the holidays approach. Some designs even feature angled stands or detachable, multi-angle holders to make device-viewing easier.
Xiao Zhi's design team knows how difficult it can be to find just the perfect gift for the holidays. In addition to the company's goal of providing its customers with unique, convenient products for their electronic devices, Xiao Zhi also offers quick shipping times to help even late shoppers complete their shopping lists, and its easy-to-navigate website was designed to make selection fast and simple during the holidays and all year 'round.
Zsxiaozhi.com is a 3dcart ecommerce website. Find Zsxiaozhi on Facebook and Twitter.