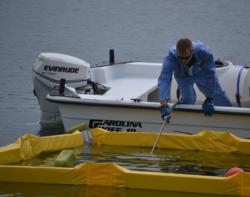 The mortality rates as a result of Zequanox were impressive and the use of barriers proved to be a an excellent method to isolate and treat mussels within specific areas of the lake.
DAVIS, Calif. (PRWEB) December 12, 2012
Marrone Bio Innovations, Inc. (MBI) a leading provider of natural pest management products for water and agriculture applications, announced today that Zequanox® was highly effective at controlling invasive zebra mussels in Deep Quarry Lake located in DuPage County, Illinois. Zequanox, the industry's only environmentally compatible molluscicide, was applied within barrier systems in three locations throughout the lake. Results showed that treated sites experienced an average mussel mortality of 97.1 percent compared with 11.2 percent mortality in the control (i.e., untreated) sites.
In the study, funded in part through a grant from the Illinois Department of Natural Resources, three sets of paired treatment and control sites were set up within the lake to evaluate the effectiveness of Zequanox. Zequanox was so effective at controlling the invasive mussels that the study concluded after just one month. The study also showed that the application of Zequanox had no impact on water quality and no adult or juvenile fish mortality was observed 24 hours after product application.
"Zequanox has proven to be a powerful tool for controlling invasive mussels in 'in-pipe' applications such as cooling water systems. This study shows the product can be equally as effective in open waters," said MBI Director of Water Technologies Sarahann M. Rackl, Ph.D., P.E. "This successful study represents MBI's next step in our commercialization efforts for Zequanox in natural water bodies, and we're excited about expanding into this new market, where there are currently no other environmentally compatible treatment options."
Zebra mussels were first discovered in Deep Quarry Lake in 2009 and have since developed a well-established population within the lake. Because of their ability to reproduce quickly and in large numbers, invasive mussels can rapidly take over water systems they invade, outcompeting native species for food and space. Invasive mussels also clog boat engine intake systems, causing the motors to overheat, and coat boat hulls, resulting in costly damage to paints and coatings. In addition, their thin, sharp shells cause painful cuts and wounds, and when the shells of deceased mussels wash ashore, they can ruin recreational beach areas. Currently, there are no commercially viable alternatives for treating invasive mussels in open water bodies without harming other species.
"We are very pleased with the outcome of this study. The mortality rates as a result of Zequanox applications were impressive and the use of anchored barriers proved to be a an excellent method to isolate and treat mussels within specific areas of the lake," said John "Ole" Oldenburg, director, Office of Natural Resources, Forest Preserve District of DuPage County.
The study was implemented in partnership with the Illinois Department of Natural Resources, Southern Illinois University (SIU), Forest Preserve District of DuPage County, PLM Lake and Land Management (PLM) and Marrone Bio Innovations.
Oldenburg added, "We are also very appreciative of MBI for providing the product that allowed us to conduct the study, and want to recognize the talented team of individuals from SIU, MBI and our Natural Resource staff from the District for their great field work in conducting this very important evaluation. We look forward to having an environmentally friendly tool for controlling invasive mussels, which cause significant ecological and economic damage to the areas they infest."
Additional open water testing with Zequanox was performed earlier this year by the US Geological Service in collaboration with scientists from New York State Museum at Lake Carlos, Minnesota and Lake Shawano, Wisconsin. Further testing will be conducted in early 2013. EPA approval for using Zequanox in natural water systems is currently in process.
About Marrone Bio Innovations
Marrone Bio Innovations, Inc. (MBI) is a leading global provider of natural products for pest management (biopesticides) and plant health. Used in agriculture and water applications, MBI's environmentally responsible products control weeds, plant diseases and pests while managing pest resistance and promoting the health of natural ecosystems. Through its proprietary discovery and development platform and strategically in-licensed technologies, MBI has developed a pipeline of advanced and early-stage products for the significant agricultural and water treatment markets. MBI is addressing the water market with Zequanox®, a groundbreaking solution for controlling invasive aquatic mussels in fresh waterways and is developing solutions for the control of algae and aquatic weeds. MBI's award-winning products for the agricultural market include the biofungicide Regalia® and the broad-spectrum bioinsecticide Grandevo®. MBI has three-dozen patents pending in the United States and globally.