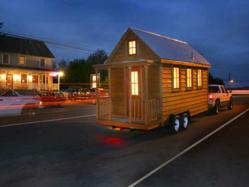 By the end of your two day session you will have gained priceless knowledge and tools that you can take with you and use to build your very own tiny home for your family
Boston, Massachusetts (PRWEB) December 13, 2012
The Tiny House Workshop is where attendees will learn all the detailed information on green home building that one cannot learn anywhere else. It is being held at Simmons College located at 331 Brookline Avenue. During the Tiny House workshop questions will be answered in regard to common and not so common questions about constructing a tiny home, while also delving into the philosophy and movement behind tiny home living. The speaker will go into detail on green building materials, and shares ideas on how to save using recycled products.
The speaker will be builder and presenter Derek "Deek" Diedricksen who has been a fixture in the Small House Movement for the past 5 years. His enthusiasm and "rock and roll" style is unparalleled. Deek has gone dumpster diving to find materials to build houses for less than $1000. The word impossible just isn't part of his vocabulary. Deek is the author and artist of "Humble Homes, Simple Shacks, Cozy Cottages, Ramshackle Retreats, Funky Forts, (and whatever the heck else would squeeze in here!)" and has been featured in the New York Times, PBS, NPR, ABC, and more.
The Boston workshop takes place daily from 9am until 5pm. Tickets start at $239 for early bird purchases and seating is very limited. Attendees will learn the fourteen basic tools needed to build a Tiny Home, how to select the best materials, the types of heaters and toilets best suited for these homes, and valuable information on window sizing and fire codes.
Tumbleweed Tiny House Company isn't just a business, it is a movement! With over twenty small house plans to choose from, the company designs homes with a socially responsible platform. Tumbleweed markets houses that range from 65 square feet to 874 square feet. To learn more about the workshop, the tiny house movement or to gain insight on the Tumbleweed Tiny House Company Please visit us at: http://www.tumbleweedhouses.com