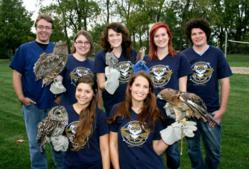 Recycling with Planet Green is a way for us to take some responsibility in our community and to raise funds for the patients at the clinic. It's a good feeling to know that we are helping the environment in more than one way! - Heather Roling, WCC
Chatsworth, CA (PRWEB) December 12, 2012
The Wildlife Care Clinic was established in 1984 for students in the College of Veterinary Medicine at Iowa State University to gain experience in wildlife medicine. The clinic is a nonprofit organization that runs on donations, fundraisers, and income from their educational programs. WCC staff regularly makes appearances at schools and various types of community events to educate about the mission of their program.
WCC is working with Planet Green Recycle as a way to raise funds by recycling e-waste. "Unfortunately, the WCC faces an uncertain future as the costs are quickly adding up," explains Heather Roling from the Wildlife Care Clinic. Roling continues, "Medications, food stuffs, diagnostics, and surgery are expensive. Currently, these items are costing the clinic approximately $55,000 per year. All donations directly benefit our wildlife patients."
In an effort to thank the Wildlife Care Clinic for doing such great work and participating in the recycling program, Planet Green recently featured them in the Organization Spotlight blog series. When asked why WCC is participating in the fundraising/recycling program with Planet Green, Roling responded with, "Recycling with Planet Green is a way for us to take some responsibility in our community and to raise funds for the patients at the clinic. It's a good feeling to know that we are helping the environment in more than one way!"
To read the full interview with Heather Roling from the Iowa State Wildlife Care Clinic, click here.
To donate directly to the Iowa State Wildlife Care Clinic, click here.
###
About: Planet Green is the global leader of quality re-manufactured inkjet cartridges and e-waste recycle fundraising programs. Since its inception in 2,000, quality has been and continues to be the focal point of Planet Green's operation. The e-waste recycle fundraising program has helped thousands of charitable organizations raise over $40,000,000 and has kept thousands of tons of e-waste out of landfills.