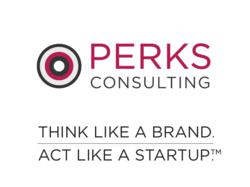 We believe transferring knowledge to our clients will create more opportunities for companies and markets to grow
New York, NY (PRWEB) December 12, 2012
Perks Consulting announces today an evolution of their services as they shift from a full service agency to a digital brand and marketing consultancy dedicated to building digital leadership within organizations. Through this transition Perks plans to reduce client dependency on agencies and outside resources to navigate the increasingly complex digital landscape. Founder and CEO Lauren Perkins sees this as a way to help her clients compete in the digital era.
"We saw an opportunity to evolve our offerings to better serve and empower our clients. We want to "in-source" digital competency by expanding our training and education offerings." said Founder Lauren Perkins. Continued Perkins, "We believe transferring knowledge to our clients will create more opportunities for companies and markets to grow. At our core we help companies adapt to change and innovate. This evolution of our approach and offerings ensures we will continue to do so in today's fast moving climate."
This move is a natural progression. Perks has always focused its strategy and advisement on supporting in-house teams and empowering outcomes rather than a traditional outsourced approach. Perks will continue to service both corporations and startups with the new consultancy focus. Perkins believes that both types of organizations need strategic stability and digital agility to maintain a competitive advantage and has developed a process that combines the best practices of both worlds while eliminating the inefficiencies.
While more companies today are building in-house digital resources there is still a ways to go. According to a survey of 672 companies by Interbrand, 49% of respondents do not have dedicated social media groups and 36% feel that their company's investment in employee education on their digital strategy is inadequate. The lack of one standard approach to organizational structure and resource allocation is one of the biggest barriers companies face today.
"With customers in the driver seat today, alignment between brand and business strategy is essential to create a strong foundation for digital strategy and customer engagement. Startups don't think about branding early enough and corporations can't react quickly to growth opportunities that the digital landscape affords. We embed the foundations needed to integrate digital strategy into the larger brand and business vision.
The shift is a return to Perks Consulting's roots. Perkins founded Perks Consulting in 2008 after developing a reputation as a marketing change agent helping companies integrate new media. The company's initial client base comprised both emerging startups and small companies who needed help leveraging social media and new technology to compete in a disruptive market.
The combination of Perks Consulting's marketing experience and entrepreneurial origins is attracting a new client base for Perks outside of its startup roots. Larger consumer brands seeking ways to become more innovative are engaging with the company's training and education offerings and digital change management practice.
"Pfizer asking us for help embedding digital thought leadership for their emerging markets team was an affirmation that our vision to create a new kind of digital consultancy was on the mark."
In addition to expanding their training and education offerings, Perks has brought in Christina Vuleta as Managing Director. With 24 years of branding and marketing experience in a multitude of industries, Christina offers significant expertise in brand development, consumer insight and strategic planning. Through her extensive work applying trends and futures to business, she is adept at helping companies leverage change and get ahead of opportunities. Prior to joining Perks, Christina was SVP, Director at The Futures Company. Her previous experience includes Saatchi and Saatchi Advertising, Faith Popcorn's Brain Reserve and KBS+P. She also runs 40:20 Vision, a resource to mentor entrepreneurs and young professionals.
The new offerings and philosophy of "Think Like a Brand, Act Like a Startup" were launched this week on a new Perks Consulting website at http://www.perksconsulting.com.
ABOUT PERKS CONSULTING
Perks Consulting is a digital brand and marketing consultancy. They transform the way companies adapt & innovate in today's rapidly changing digital landscape. Perks Consulting works with clients in three ways: strategy + advisement, training + education and design + development. Their approach focuses on aligning business and brand strategy to ensure a fluid, high performance user experience. Perks offerings are designed to support consumer brands and startup companies alike with the thought leadership, collaboration and multi-discipline-specific skills that build digital leadership with transparency, strategic rigor and efficiency.