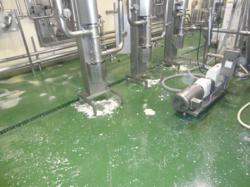 When soliciting bids for an industrial flooring project, it's very important to verify the length and terms of the warranty
Indianapolis, IN (PRWEB) December 12, 2012
The quality of an industrial epoxy flooring system can best be determined by how the installer is willing to stand behind their product. Surface Solutions, an Indianapolis based industrial flooring contractor recommends a thorough review of warranty documents prior to selecting an installation contractor.
A solid warranty indicates your contractor knows how to prep and install epoxy floor coatings properly. More importantly, a well-crafted warranty will protect the customer's best interests – not those of the contractor.
Surface Solutions offers a complete single source warranty on all installations. The warranty covers both labor and materials against defect. Since Surface Solutions is a full service installation contractor, the customer has only one number to call should a question or problem arise.
"When soliciting bids for an industrial flooring project, it's very important to verify the length and terms of the warranty." Steve Hess, President of Surface Solutions cautioned. "A reputable contractor should be upfront about the ways in which they guarantee the quality of their product."
There is a wide array of industrial floor coatings and systems available. The warranty however should not contain any ambiguity on guarantees against product failure. Since Surface Solutions both manufactures and installs epoxy flooring, they are able to offer a single source turn-key warranty against both product and installation issues.
Prior to implementing any epoxy flooring installation, Surface Solutions will provide a complete assessment of the existing surface, recommend the best flooring system and provide a breakdown of pricing. Contact Surface Solutions for more information on their full catalog of industrial flooring products.
About Surface Solutions
Surface Solutions is an independent industrial floor contractor specializing in seamless, polymer flooring systems utilizing the most trusted brands in the industry. From testing to consultant and complete installation services, Surface Solutions is your premier source of industrial flooring systems.