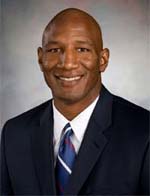 Anaheim Hills, CA (PRWEB) December 12, 2012
METRIX Capital Group, LLC, a leading private equity firm based in Anaheim Hills, CA today announced that Corey Crowder has joined the firm in a business development role. Mr. Crowder's background includes a long fourteen year career in professional basketball, playing in the NBA and overseas. Most notably, Mr. Crowder spent time with the Utah Jazz and San Antonio Spurs in the mid-nineties.
Since retiring from the game of basketball, Mr. Crowder has spent most of his time as an executive coach, motivational speaker and mentoring young athletes. Mr. Crowder will bring with him his experience in professional sports and strong corporate ties he developed working with numerous companies as an executive coach to further strengthen METRIX Capital Group's business development team. Mr. Crowder will maintain a focus on opportunities in the Southeastern region of the United States.
Jeff Brannon, Founder and Managing Partner of METRIX Capital Group said of the hire, "Corey will be an integral part of broadening the METRIX footprint in the Southeast. His professional skills and network combined with our ability to provide attractive financial solutions is a recipe for success."
Mr. Crowder said of his new role with METRIX, "I am very excited to join the METRIX team. I look forward to expanding the METRIX brand and bringing their value added products and services to many new clients."
Mr. Crowder is a graduate of Kentucky Wesleyan College from which he earned a Bachelor of Arts in Criminal Justice in 1991. While at Kentucky Wesleyan College, Mr. Crowder also led the basketball team to the 1990 Division II National Championship and was named the 1991 Division II National Player of the Year. Mr. Crowder's son, Jae Crowder, was a second round pick in this year's NBA Draft and currently plays for the Dallas Mavericks.
METRIX Capital Group, LLC (http://www.metcapgroup.com), based in Anaheim Hills, CA is a private equity firm focused on providing growth capital and asset based lending to small and medium sized companies.