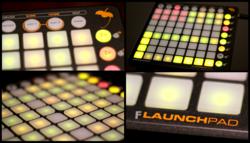 Perform to Win a FLaunchpad
(PRWEB) December 13, 2012
The competition is open to registered Image-Line customers using FL Studio 10.5 or higher in 'Performance Mode' and closes January 7, 2013. Either YouTube or Vimeo videos are allowed.
FL Studio 10.5 introduced Performance Mode that allows customers to trigger Audio, Automation and Pattern Clips, on the fly, in real-time to create live performances. There has been a steady and growing stream of users uploading videos to YouTube.
Image-Line have decided to collect as many videos as they can in a competition. They are giving away 2 out of the 10 FLaunchpads they had custom made for promotional work.
The FLaunchpad is based on the Novation Launchpad and is a 64 button 'music controller' that enables you to make music or mix tracks by other artists. You don't need advanced musical knowledge, just your own creativity.
You can use the buttons to trigger sounds and loops, change the volume of each sound, and add effects to them!
ABOUT IMAGE-LINE SOFTWARE
Established in 1994, Image Line Software provides high quality music applications to the computer-based music community and is well known for its leading digital audio workstation FL Studio (formerly FruityLoops), high quality synthesizers including Sytrus, PoiZone,Toxic Biohazard, Harmor, Harmless, Morphine, Ogun and Sawer, a mix of innovative Effect plugins like Maximus and Hardcore and range of sample libraries used in their multi-sampler plugins DirectWave and Soundfont Player. FL Studio Mobile. The acclaimed DJ mixing software application Deckadance. In addition to its audio software, Image Line Software develops and distributes the web site EZGenerator.
For more information, please contact:
Scott Fisher, Communications Manager
Image Line Software
E-mail: press(at)image-line(dot)com
http://www.image-line.com/documents/news.php