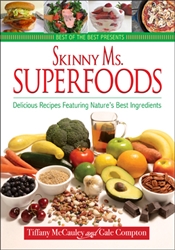 Brandon, MS (PRWEB) December 17, 2012
Each holiday season, many feel the pangs of guilt from overindulgence and resolve to lose a few pounds or change unhealthy habits in the upcoming year. Luckily, many cookbooks make keeping these resolutions easier by featuring delicious dishes without the calorie-laden guilt.
Diabetics and those watching their glycemic intake can look to naturopathic doctor and famed health and fitness guru Dr. James Rouse's latest cookbook, Not Just for Diabetics Cookbook: Naturally Delicious Recipes for Optimum Wellness. This collection of recipes urges readers to reconsider their nutritional goals to attain an improved overall well-being and offers more than 200 tasty, nutritious, and innovative recipes, including beverages, appetizers, breakfasts, pasta dishes, breads, dinner ideas, and even desserts, all of which support mind, body, beauty, and optimum wellness. Furthermore, the Not Just for Diabetics Cookbook contains detailed information about diabetes as well as helpful guidelines for achieving a healthy, well-balanced lifestyle. One of the most prominent features is Dr. James' twenty tips for achieving your Metabolic Best, an easy-to-follow guide to take the guesswork out of how to begin on the path to Optimum Wellness.
Those resolving to eat clean food can look to cookbooks such as Skinny Ms. Slow Cooker and Skinny Ms. Superfoods. Author Gale Compton's successful fight against cancer motivated her and co-author Tiffany McCauley help others achieve healthier lifestyles.
Their first cookbook, Skinny Ms. Slow Cooker, presents a diverse collection of recipes using wholesome and natural ingredients while maintaining the stress-free nature of slow cooking, dispelling the myth that eating healthy can't still be easy and delicious. McCauley and Compton present everything from beverages to appetizers to desserts and even breakfast dishes, contradicting the notion that slow cookers are merely for meats, veggies, and soups and making the commitment to healthy eating much less daunting.
The popularity of this first book ultimately prompted the publication of their second cookbook, Skinny Ms. Superfoods, chock full of so many nutritious and delicious recipes, you won't even realize you're eating healthy! Superfoods go above and beyond what their nutritional content provides in health benefits because of their high concentration in nutrients. They fight against many chronic illnesses such as high blood pressure, diabetes, and cancer. This cookbook presents an abundance of superfood recipes alongside insightful information about their significant nutritional benefits, helping readers determine a tasty path toward a healthier 2013!