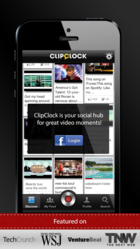 By socializing the way video is discovered and shared on mobile, we're going to change the way people watch video in general.
San Francisco, CA (PRWEB) December 13, 2012
ClipClock, a social video discovery app, officially announced its iPhone Mobile App launch this week in the App Store. Created by an international developer, Future Services, with offices in San Francisco and Moscow, the application helps people to discover great videos shared on social networks and highlight the best moments of videos they enjoy.
Highlights on the most interesting moments of a video lets users get right to the best parts when watching new videos. Users can also just swipe videos for the best moments highlighted by other people or make their own highlights and share those with friends via Facebook or Twitter.
Additionally, users can shoot a video with the app, then clip and comment on the best moments before sharing.
"By socializing the way video is discovered and shared on mobile, we're going to change the way people watch video in general," said ClipClock PR Manager, Jacqueline Lage. "Social networking sites have made discovering and sharing easy and immediate, and we're focusing user's increasingly divided attention to great socially selected videos and the best parts of each video. That is especially important for mobile video consumption when there is always a lack of time and data bandwidth"
ClipClock has received media praise from TechCrunch, Wall Street Journal, VentureBeat, TheNextWeb, and SocialTimes as the latest trending video discovery and clipping service. This innovative app was also selected by Microsoft as its Startup Accelerator Participant, where they received first place among 300 startups and a grant from the Microsoft Seed Fund. In November 2012 ClipClock raised $2,5 mln of investments dedicated to ClipClock mobile applications development and distribution.
About the Developer:
Future Services, LLC. created ClipClock as a way to discover and share the best video moments through a fun and easy to use social hub format. As a young team based out of San Francisco and Moscow, Future Services looks to lead the way in video app innovation and continually improve the ClipClock app. Future Services remains proud to provide the first app which acts as a social hub and video highlighting service, so the best moments can be easily watched and shared on mobile like never before. Future Services established itself in early 2012, commercially operates out of San Francisco, California and develops the product in Moscow, Russia.