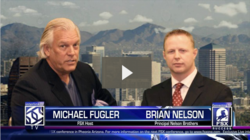 We have a really unique niche.
(PRWEB) December 12, 2012
FSX held their 117th Quarterly Conference from October 25-27 in Phoenix, Arizona. The companies that presented at this Investment Conference had the opportunity to be interviewed by an FSX Host.
FSX Host, Michael Fugler, interviewed Brian Nelson, MBA & Principal of Nelson Brothers. During this interview Nelson said that Nelson Brothers started in 2007 with the objective of finding real estate investments that offered stability, income, growth, and tax savings. They felt that well positioned student housing and assisted living investments could offer all of those things. Nelson Brothers focuses on their role of owning the best properties, managing them well and optimizing the income. "We have a really unique niche. We have a partner that's been operating assisted living properties for 3 or 4 decades now." stated Nelson, concluding that their investors enjoy stability while collecting a monthly income with 6 to 8 % yield.
The complete Nelson Brothers interview, as well as all the presenting companies interviewed at the FSX Investment Conference, is available only on FSX Interlinked's Web Channel, an on demand Video Channel that offers a glimpse into their private network of Partners and Companies.
About Nelson Brothers & InterlinkedTV
Nelson Brothers Professional Real Estate offers unique investment opportunities through well positioned student housing and assisted living properties.
InterlinkedTV.com is an internet video production and distribution site dedicated to private enterprise, venture capital news, and investment events. We are bringing you this exclusive content through our partnerships with conferences, investment events, companies and IR firms.