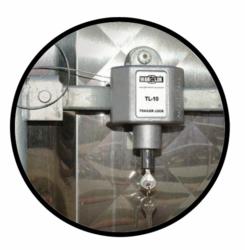 It's surprising how such simple precautions can deliver such effective results.
Dallas, TX (PRWEB) December 14, 2012
Due to the upcoming holiday season, cargo theft increases significantly - more than 28% according to FreightWatch International. WAR-LOK, the global leader in transportation and supply chain security, wants to help keep your cargo secure.
With the holidays rapidly approaching it means that more drivers are susceptible to cargo theft as they will be spending more time at home than on the road. Most likely the loaded trucks will sit idle for a longer period of time giving thieves an opportunity to strike. Even though the majority of theft occurs in unsecured parking areas, theft from secured parking locations has grown steadily over the past few years.
According to CargoNet's Q3 2012 data, Dallas takes the number one spot for the nation's highest level of theft incidents followed by Los Angeles, Doral, and Houston. The most popular day for cargo theft occurrences is Friday and typically occurs at warehouses, parking lots, and truck stops. Recently featured on CBS Money Watch, WAR-LOK offers the following tips to keep your cargo safe during the holiday season:

Avoid leaving loaded trailers sitting unattended over the weekend in unsecured areas.
Secure all tractors and trailers with locking devices, such as air brake locks, king pin locks, trailer locks, padlocks, barrier boxes, etc.
Remove all keys from equipment.
Make sure drivers and security managers know the license plate, VIN, and descriptive information for tractors, trailers, containers, and container chassis.
Make sure the facility is well lit, has back-up generators, alarm systems, and surveillance equipment.
If you are a victim of theft, notify law enforcement immediately.
Regardless of other high-tech solutions, a more viable and very effective way to keep your cargo safe is to simply make sure it is sufficiently locked. WAR-LOK offers a solution for less than $100 with the king pin lock to keep a tractor from hooking up an untethered trailer, glad hand lock to secure a trailer's air line, and the air brake lock which keeps the brake from being released. Each lock is reusable and guaranteed to have a long life. "It's surprising how such simple precautions can deliver such effective results," says Dan Marlett of WAR-LOK.
Cargo locks, such as those made by WAR-LOK, are sold in truck stops, Amazon, and through many online distribution channels. Do not endanger a shipment when a simple solution is affordable and readily available.
WAR-LOK is the leading manufacturer of transportation and supply chain security solutions. Based in Dallas, TX, WAR-LOK offers many types of locks with an infinite number of key options – key alike, key different, key to master key, key some to one key and others to another with a master, etc. More information can be found at the WAR-LOK website.