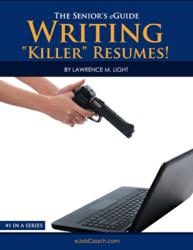 I know it works because it got me the job... -- Elaine Jancourtz
Mission Viejo, CA (PRWEB) December 13, 2012
If not mentally prepared, job seekers may become depressed during the holiday season. Lawrence Light (http://www.amazon.com/Lawrence-Light/e/B009NA6BK6/ref=ntt_dp_epwbk_0), author and creator of eJobCoach.com, offers tips to help job seekers, so that they can continue to search for work with a positive outlook for 2013.
"It's easy to become depressed during this time of year," said Light -- who wrote "Killer Resumes! The Seniors' eGuide" (http://www.amazon.com/Writing-Killer-Resumes-Seniors-ebook/dp/B009N6F1PQ/ref=sr_1_1?ie=UTF8&qid=1351025262&sr=) and "Cover Letters That Get Interviews!" (http://www.amazon.com/Letters-Interviews-Seniors-Finding-ebook/dp/B009NA9DGK/ref=sr_1_8?s=books&ie=UTF8&qid=1351025438&sr=1-8). "Job seekers can maintain a positive mental attitude by creating positive interior monologues, helping others, enlisting friends, even writing a letter to former bosses."
Light's empowering eGuides are written for job seekers over 50 and provide step-by-step instructions for writing resumes and cover letters. "People 50 and over have the experience and talent to successfully compete in the current job market," said Light, who has helped transitioning job-seekers since 1997. "However, they can't expect to succeed if they list too many jobs, or too much information, two clear signs of an older worker -- plus people over 50 often don't know how to emphasize their real skills and work experience to make themselves more desirable."
Elaine Jancourtz, a successful job seeker wrote, "If you follow this eBook, it's almost all you need. If a person can't afford to hire a coach on a regular basis, this is the best alternative. I know it works because it got me the job I'm leaving and the one I'm going to." Professional coach and consultant, Janet L. Newcomb, who recommends Lights' books to her clients, said, "I couldn't have written a better job search guide. Larry's advice is exactly what I tell many of my clients. From now on, I'll save my time and their money by recommending they purchase this very helpful eBook."
According to Light, to remember their successes, job seekers should recite their success stories to themselves three or four times a day, while doing an invigorating exercise. The creation of endorphins plus positive mental images provides an instant pick me up. Since there is no better boost than hearing someone else say thank you, helping others can help lift a mood.
Because folks often need an outlet, job seekers should talk with friends or "buddies"; however, Light says job seekers should vent sparingly, or they might wear people out. "Friends can only take so much negative talk, before they start to feel bad," he said. "One real tip is to write a letter, saying all the mean and nasty things to that old boss who let you go; it's the best way to get things off your chest, but for heaven's sake, burn or shred it afterwards. Under no circumstances should a job seeker send their former employer any kind of emotion-filled correspondence."
"Do-it-yourself-ers" will enjoy these eGuides, available on Amazon for $9.95 for Kindle or PC's and laptops. Fully guaranteed, users must be satisfied or they get their money back!
About Lawrence Light
Lawrence M. Light created eJobCoach.com to help job-seekers find better jobs. Since 1997, he's coached job-seekers in transition. A former member of the Philadelphia Area Coaches Alliance, International Coach Federation (ICF), he served on the Board of Directors of FortyPlus, Larry's professional career includes thirty-five years of marketing and sales management experience at IBM, Xerox, CSC, AGS Management and MG Industries among others. As V.P. at AGS, he managed release of the best-selling systems development methodology SDM. Reach him by phone at 949.716.3581 and/or e-mail larry.light (at) cox (dot) net.