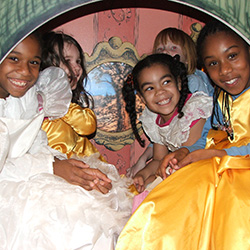 "Once Upon a Time… reminds me of the magic of fairy tales with their emphasis on storytelling and dramatic play," Karyn Flynn, CEO & Executive Director
Sausalito, CA (PRWEB) December 15, 2012
Thanks to a new exhibit at Bay Area Discovery Museum, children can literally step inside beloved stories from around the globe with a hands-on exhibit that brings favorite multicultural fairy tales to life. From an African jungle to a giant's castle, visitors to Once Upon a Time…Exploring the World of Fairy Tales, will enter the larger-than-life pages of seven favorite fairy tales from around the world. Bringing each tale to life through large-scale environments and interactive components, the exhibit, which premieres Saturday, December 15, is designed for children ages 3 to 10 and their parents. The exhibit is included with general admission and will be at the Museum through May 12, 2013.
"Once Upon a Time… reminds me of the magic of fairy tales with their emphasis on storytelling and dramatic play. We are excited for this beautiful exhibit and are rolling out some new drop-in programs and an adult workshop to support the development of children's imagination and creativity," Karyn Flynn, CEO & Executive Director.
Once Upon a Time…Exploring the World of Fairy Tales is the first nationally touring exhibit devoted exclusively to fairy tales and the breadth of their cultural significance. Visitors enter the exhibit via a magical portal into a fabulous storybook kingdom where they'll learn the meaning and history of tales they've known all their lives and others that may be new to them. The tales include: Anansi and the Talking Melon, Beauty and the Beast, Cinderella, The Elves and the Shoemaker, Jack and the Beanstalk, Lon Po Po, and Thumbelina.
Once Upon a Time…Exploring the World of Fairy Tales Drop-in Workshops
Tuesdays and Fridays, 10:30 – 11:15 a.m.
Thursdays and Fridays, 3:30 – 4:30 p.m.
Free with Museum admission.
This winter we will be journeying into the world of fairy tales and storytelling. Come join us for a special menu of drop-in workshops and pop-up programs in conjunction with this exhibit. Each month we will delve into a different aspect of the storytelling process as we explore the magic and power of stories and their complex place in our lives and imaginations.
December and January: Dramatic Play
February: Props and Costumes
March: Storytelling and Writing
April: Quests and Adventures
May: Magic and Mysteries
Fairy Tale Storytime:
Wednesdays at 1:30 p.m., Thursdays at 3 p.m., and Fridays at 2 p.m.
Join us as we share some of our favorite stories for a half-hour story time.
Adult Workshop: Fostering social, emotional and cognitive skills through reading
Third Wednesday of the month
January 16, February 20, March 20 & April 17
Members $25; General $30
Learn how you help your child develop their emotional intelligence, problem solving skills as well as their imagination through reading. This two-hour workshop will be facilitated by the Museum educators in collaboration with Jumpstart, a non-profit organization committed to cultivate a life-long love for language and learning and ultimately provide a foundation for future success.
Once Upon a Time…Exploring the World of Fairy Tales is a collaborative effort of The Magic House, St. Louis Children's Museum and the St. Louis Public Library and is made possible by a grant from the Institute of Museum and Library Services.
Local media sponsor: KQED