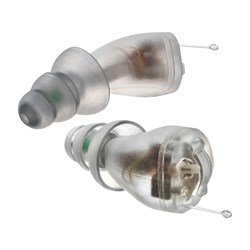 "If purchasers keep their MusicPRO earplugs after the trial ends, register their earplugs and complete a brief survey, we are delighted to send them a free Etymotic hf3 cobalt headset, a $179 value."
Elk Grove Village, IL (PRWEB) December 12, 2012
In September, Etymotic Research, an innovator in hearing wellness solutions, announced the launch of its MusicPRO™ Electronic Musicians Earplugs. Designed for music professionals, music educators and music enthusiasts of all ages, MusicPRO electronic earplugs combine two of Etymotic's passive custom earplugs for musicians – the ER-9 and ER-15 Musician's Earplugs™ in a single "active" device. The result is intelligent, high-fidelity, adaptive earplugs. The circuitry automatically changes output levels as sound input levels change. Hearing is natural as if nothing is in the ears, until sound exceeds safe levels. As sound levels increase, earplugs gradually provide 9- or 15-dB sound reduction. Natural hearing is restored when sound returns to safe levels. The 9-dB setting provides additional boost for soft sounds if desired.
Now, Etymotic launches its "Audition One" program for the MusicPRO 9-15's. "Through January 15, 2013, consumers can audition a pair of MusicPRO 9-15 electronic earplugs for 30 days," said Mark Karnes, managing director of consumer products. "If purchasers keep their MusicPRO earplugs after the trial ends, register their earplugs and complete a brief survey, we are delighted to send them a free Etymotic hf3 cobalt headset, a $179 value."
If consumers are not completely satisfied with their MusicPRO earplugs, they can return them for a full refund. This offer includes free roundtrip shipping in the continental US. There is a 30-day waiting period from the original date of purchase for redemption of the hf3 cobalt headset.
MusicPRO earplugs are priced at $399 and are available for purchase at etymotic.com, Amazon.com, other online retailers, select specialty shops and Etymotic's network of hearing solutions providers.
About Etymotic Research
Etymotic Research leads the way through all of its company initiatives to educate, advocate, protect and enhance the listening experience for consumers at all ages and stages of life. Etymotic was honored with a Health and Wellness Design and Engineering Innovations Award by the Consumer Electronics Association in 2011 and the prestigious Safe-in-Sound Award from the National Institute of Occupational Safety and Health (NIOSH) and the National Hearing Conservation Association. For more information about Etymotic, please visit http://www.etymotic.com.