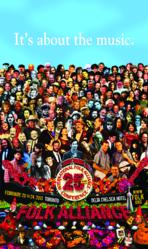 Folk Alliance is the epicenter for folk music. (Bob Lefsetz, The Lefsetz Letter)
(PRWEB) December 12, 2012
Folk Alliance International and Exclaim! Magazine have teamed up to offer Exclaim! readers and Folk Alliance attendees a chance to win passes to the 2013* Conference at the Delta Chelsea Hotel in downtown Toronto, February 20-24, 2013. That's not all, the first person to correctly identify all the faces will receive US$1000, a new guitar, and comp conference registration for two. If there is no grand prize winner, the entry with the most correct answers will win the guitar and registrations. Second prize will include a conference registration, and 10 runner-up prizes will include FAI gift packages and passes to our public shows. The contest features the incredible 2013 Conference Artwork (by A Man Called Wrycraft), and challenges participants to match the broad range of iconic folk music faces with their names. Open until January 15th, anyone may enter at http://www.Exclaim.ca/Contests/folk_alliance_international. (*Winning registration may be used for 2013 or 2014 conferences)
The 25th annual International Folk Alliance Conference has announced its invited artists for the conference, with the final selection announced December 11th. This list of invited artists represents the approx. 200 official showcase artists that will appear at the upcoming conference February 20-24, 2013 in Toronto, attending along with many more artists and industry professionals from across the globe. There are private showcase rooms available, so those who want to play, can play regardless of showcase status. Folk Alliance International specializes in representing all styles of Folk music from traditional to contemporary, and you can view the list of invited artists at http://www.folkalliance.org/conference/2013-official-showcase-artists.
The 2013 conference will host features on Canadian Folk Music, including a very special keynote from legendary Canadian manager and label founder Bernie Finkelstein. There will be musical celebrations on the rich history of Canadian Folk Music, exploration of the current Folk Music revival in popular music, a special preview of our 2014 conference and new music camp in Kansas City, and panels, clinics and workshops featuring some of the finest musicians and industry professionals in the business. This year's Lifetime Achievement Awards will include presentations for The Weavers, Mike Seeger, and the Augusta Heritage Center. This plus the music, and much more will make for an exciting week all under one roof.
The International Folk Alliance Conference is the largest self contained music event in the world and annually brings together over 2000 artists and music industry professionals, featuring over 200 juried music showcases. This year's conference will take place in the Delta Chelsea Hotel in downtown Toronto. The hotel is located on the longest street in Canada; Yonge Street, and there are many amenities both within and around the hotel, for almost anything you may need while you're at the conference. Folk Alliance is hosting public shows at Toronto's premiere folk music venue, Hugh's Room, from Monday, February 18th to Sunday, February 24th, and on the Wednesday night of the conference Folk Alliance will play host to the ticketed public, with a series of showcases in the hotel.
For questions regarding the 2013 Folk Alliance conference, please contact Louis Meyers at 901-522-1170 or louis(at)folk(dot)org. Media inquiries/accreditation please contact Joelle May at 403-618-2504 or joelle(at)folk(dot)org.
Folk Alliance has showcased acts of every level and genre, from Bela Fleck, The Carolina Chocolate Drops, Charlie Louvin, and Tommy Ramone, to The Milk Carton Kids, Luke Doucet, and Joel Plaskett, among countless others. Under the leadership of SXSW co-founder, Louis Jay Meyers, Folk Alliance International leads the way in celebrating the past, present, and future of Folk, Traditional, and Roots Music. The art of discovery is alive and well at the 25th annual International Folk Alliance Conference. See you there!