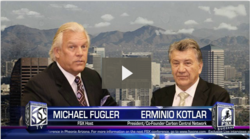 We've been cutting down a hectare of rainforest every three seconds. We cannot continue to do that.
(PRWEB) December 12, 2012
FSX held their 117th Quarterly Conference from October 25-27 in Phoenix, Arizona. The companies that presented at this Investment Conference had the opportunity to be interviewed by an FSX Host.
FSX Host, Michael Fugler, interviewed Erminio Kotlar, President & Co-Founder of Carbon Central Network (CCN). During this interview Kotlar described himself as a bit of a "greeny" but as a realist as well. He explained how CCN believes that the cheapest way to cut down emissions is to let nature do its job. "The unfortunate part with progress, as we call it, we've been cutting down a hectare of rainforest every three seconds. We cannot continue to do that." stated Kotlar.
CCN decided to come up with a new approach to saving the planet; a four legged table that includes people, planet, profit and progress. Focusing on carbon credits as a tradable commodity, CCN rewards their network for green behavior and shares the profits with native populations so that it is more profitable to leave the trees alone than to cut them down.
The complete Carbon Central Network interview, as well as all the presenting companies interviewed at the FSX Investment Conference, is available only on FSX Interlinked's Web Channel, an on demand Video Channel that offers a glimpse into their private network of Partners and Companies.
About Carbon Central Network & InterlinkedTV
At CCN, we strongly believe that the most effective way to motivate people to take action on rainforest destruction is to incentivise them to do so. We know that if done correctly, this will create a mass movement of people to take real action to save our remaining rainforests, reduce their own carbon emissions and encourage others to be involved as well. CCN is creating the NETWORK to start this process. We are confident that the move to GO GREEN, to GO CARBON NEUTRAL and to save our world's rainforests will improve economies around the world, creating a better use of our resources and sustaining our planet for future generations.
InterlinkedTV.com is an internet video production and distribution site dedicated to private enterprise, venture capital news, and investment events. We are bringing you this exclusive content through our partnerships with conferences, investment events, companies and IR firms.