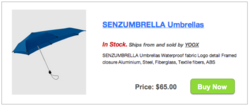 The VigLink Catalog API is by far the most useful and comprehensive product API that's ever been offered so widely," said Oliver Roup, CEO and Founder of VigLink
San Francisco, CA (PRWEB) December 12, 2012
VigLink, the leading platform for monetizing content-driven commerce, today announced the release of its free product catalog API, a new public Merchant Explorer tool covering the largest universe of merchant affiliate programs and an updated destination site for merchant news and exclusive offers for VigLink users. Just in time for publishers to capture last-minute holiday shoppers and showcase post-Christmas offers for their readers, the new tools maximize publishers' earnings by giving them access to the broadest range of relevant merchants, products and deals.
VigLink makes hyperlinks intelligent agents for publishers, allowing them to both monetize and analyze their content. The company's technology automatically adapts existing links in a publisher's content so they get paid when readers click or make a purchase. Optionally, VigLink technology can also insert ordinary links when detecting a relevant merchant, brand or product reference in the publisher's content.
VigLink is the largest network of its kind. Every month, VigLink processes billions of page views and over three hundred million clicks, fueling tens of millions of dollars in content-driven commerce. Nearly double the merchant coverage of any competitor, VigLink works with more than 30,000 merchants, capturing 90% of the affiliate programs within the Internet Retailer Top 500.
Massive Catalog API is fast, simple and free
Available immediately to all VigLink users and without pre-approval, the Catalog API enables developers to programmatically discover products, compare prices and find deals. VigLink's Catalog API includes images, prices, deals, availability, and coupons covering 3,300 VigLink merchants selling over 75 million products in 1,744 categories. Data is refreshed daily for the most up-to-date information.
Queries return structured data that can be used to build anything from a full-blown comparison shopping engine to widgets to an ad unit for a single product, from web to mobile. All VigLink Catalog API calls are free and all returned links are automatically set to monetize resultant clicks and conversions.
"While product catalog APIs have been available for a decade, most are cumbersome, costly or limited in their data. The VigLink Catalog API is by far the most useful and comprehensive product API that's ever been offered so widely, leapfrogging the competition on every relevant dimension by returning much higher quality product data across many more products," said Oliver Roup, CEO and Founder of VigLink.
Public Merchant Explorer provides access to the broadest range of affiliate offers
Publishers who want to learn more about the 30,000 merchants that work with VigLink can now visit the new Merchant Explorer at http://www.viglink.com/explorer. There, publishers can search by specific merchant or product category to find the most up-to-date commission rates, helping publishers decide which merchants will receive their traffic. VigLink is making Merchant Explorer available to anyone – even those without a VigLink account – so publishers see for themselves the tremendous revenue advantage available through VigLink merchant relationships.
Insider destination site keeps publishers up to date on latest offers and exclusive deals
Additionally, VigLink recently released VigLink Insider (http://www.viglink.com/insider), a new destination for VigLink publilshers covering the latest merchant news. There, publishers can discover exclusive offers, learn about commission increases, and see newly added merchants in the VigLink community.
# # #
About VigLink
VigLink technology captures the value of content-driven commerce by making hyperlinks intelligent, allowing publishers to monetize and analyze out-clicks. The largest network of its kind, VigLink maximizes earnings for tens of thousands of publishers and works with more than 30,000 merchants, processing billions of page views and over three hundred million clicks every month. Founded in 2009 and based in San Francisco, VigLink is backed by top investors including Google Ventures, First Round Capital, and Emergence Capital. More information can be found at http://www.viglink.com or @VigLink.
Media Contact:
Oliver Deighton | VP Marketing | Direct: (408) 922-9462 | oliverd(at)viglink(dot)com
Additional links and images can be found at http://www.viglink.com/blog/press