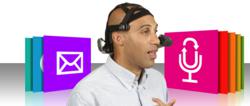 Ask Ziggy is a perfect fit for Golden-i because the headset is a truly hands-free device
Nottingham, UK (PRWEB) December 12, 2012
Ikanos Consulting today announced that its Gi-OS™ mobile operating system for the Golden-i® wearable headset computer now includes the innovative Ask Ziggy speech-driven virtual assistant.
Using voice recognition to translate speech to text, Ask Ziggy provides a convenient 'hands-free' way for Golden-i users to generate SMS messages, create and answer emails, and to search the internet. Ask Ziggy uses natural language and artificial intelligence processing to understand and respond to user spoken commands, search terms and topics in an intelligent manner – making Golden-i even easier to use.
Ask Ziggy is exclusively available on Golden-i for all wearable computing headset applications. In addition to the built-in functions in Gi-OS, Ask Ziggy's software development kit (SDK) enables developers to easily create applications for Golden-i that use Ask Ziggy's natural speech processing – without having to deal with the underlying technology.
Available now, Gi-OS provides a sophisticated, easy to use mobile operating system with a comprehensive set of built-in speech and gesture-enhanced applications. It makes it easy for developers to include voice and gesture control in their applications and to take full advantage of Golden-i's features, and includes a SDK and Win32® emulation to help development.
"With Ask Ziggy, we're taking the user interface of wearable computing to a whole new level," said James Woodall, CEO at Ikanos Consulting. "We've effectively reached the point where you can have a conversation with the headset and it will respond appropriately."
"Ask Ziggy is a perfect fit for Golden-i because the headset is a truly hands-free device," said Shai Leib, CEO at Ask Ziggy. "Gi-OS and Ask Ziggy complement each other and enable Golden-i users to get the most from the headset's features."
Conceived by Kopin Corporation, Golden-i is a 6 ounce, wireless computing and communications headset designed as a wearable replacement for conventional notebook PCs, tablets and industrial hand-held devices, where workers need to keep their hands free to do their work, improving productivity, efficiency and safety. Golden-i provides enhanced Bluetooth® as well as Wi-Fi®, and is designed to leverage cellular 3G and 4G LTE services anywhere. It provides a near-eye, virtual 15-inch PC display and near-ear speaker, as well as natural voice recognition. Golden-i employs nine-axis gesture recognition and geo-positional sensing at up to 2,000 degrees per second per axis. Golden-i provides an embedded digital compass, full GPS, a 14 mega pixel visible light camera, as well as second and third optional 640 x 480 SWIR and Far IR cameras to view, record and or wirelessly stream video on-demand.
Gi-OS features key system-wide commands which allow the user to easily navigate through a wide range of intuitive applications, including an HTML5 web browser, document viewer, e-mail center and cell phone dialer. The camera application also enables users to send and receive live streaming video on-demand, recording streaming video, or take high resolution 14 mega pixel still images. Video chat allows users to communicate in real time via video, images, documents and audio.
Ikanos Consulting has been involved with Golden-i from an early stage, and is responsible for developing and supporting its software development kit (SDK). The SDK enables developers to quickly and easy create applications to harness the power of Golden-i and Ask Ziggy.
Ask Ziggy has developed an SDK for developers around the world to create unique applications for Golden-i. Ask Ziggy's new SDK will pave the way for thousands of developers to create domain specific virtual assistants without having to understand NLP (natural language processing), and empower users to use millions of potential apps through natural speech through four easy steps. The SDK will be released in January 2013.
While Gi-OS and Golden-i provide a fully usable solution with no modifications, the system has the potential to be customized to integrate closely with any existing IT infrastructure and existing enterprise applications. Ikanos can provide Gi-OS insight, customization, and enterprise training to optimize headset performance.
The Gi-OS software and the accompanying SDK are available now as a free download, and Golden-i development kits are available now for $2,500, all from the Golden-i developer website at http://developer.mygoldeni.com. The website provides extensive support for developers, including an FAQ list, example source code, a user forum, and access to experts to answer questions.
For more Gi-OS information, case studies, photographs and videos, please go to http://www.mygoldeni.com.
Follow us:
Follow Ikanos and Golden-i on Twitter: @ikanosc and @MyGolden_i
Follow us on Facebook:
https://www.facebook.com/mygoldeni
https://www.facebook.com/IkanosConsulting
Trademarks
Golden-i® is a registered trademark of KOPIN Corporation.
Gi-OS™ is a trademark of KOPIN Corporation.
Wi-Fi and the Wi-Fi logo are registered trademarks of the Wi-Fi Alliance. Bluetooth and the Bluetooth logo are registered trademarks of Bluetooth Special Interest Group. Win32 is a registered trademark of Microsoft Corporation in the United States and other countries.
About Ikanos Consulting:
Founded in 2007, Ikanos Consulting is the software expertise behind creating the innovative Gi-OS mobile operating system for Golden-i computer headsets. Golden-i is a lightweight wearable computer headset technology platform that has been replacing fixed PCs, laptops and handheld computers where workers need to keep their hands on the job. Gi-OS is operated by voice recognition and head gesture, allowing the users to access working documents and product information, and to record and send real-time streaming video to a colleague back at base, all with their hands free. Gi-OS is available now, and Ikanos' experienced software developers can integrate it into an existing IT infrastructure, helping companies to improve productivity, efficiency and health and safety in the workplace.
# # #
Media Contact for Ikanos Consulting:
Nick Daines
Lumen PR
Tel: +44 (0)115 8412109
Mobile: +44 (0)7958 534731
nick(at)lumenpr(dot)com
Media Contact for Ask Ziggy:
Shai Leib, CEO
Tel: +1 (916) 435-0444
shai(at)ask-ziggy(dot)com