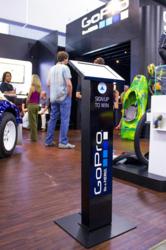 GoPro has seen an increase in our lead generation metrics since we started using the iPad kiosks at trade shows
Salt Lake City, UT (PRWEB) December 12, 2012
GoPro, maker of the world's most versatile cameras and producer of some of today's most engaging online programming, has chosen ArmorActive to represent them as their iPad kiosk solution of choice as they attend trade shows and events across the world. ArmorActive's secure iPad mounting solutions have helped GoPro to reach new customers and continue their massive success with outdoor and extreme sports enthusiasts of every degree.
For almost two years, ArmorActive has provided GoPro with nearly 150 iPad security products, which have traveled all over the world, from Holland to Singapore. This month GoPro continues their world tour at the Vans Triple Crown surf competition in Hawaii, featuring their brilliant mobile video products and engaging show attendees with the iPad.
The ArmorActive iPad kiosks used by GoPro not only assist GoPro in instantly attracting new customers with amazing videos of their product in action, but the kiosks also facilitate free GoPro gear giveaways. As a portal for new customer leads, ArmorActive's kiosks have been instrumental in capturing an immense amount of customer information for newsletters and new product line announcements.
"GoPro has seen an increase in our lead generation metrics since we started using the iPad kiosks at trade shows we attend," states Jamie Oliver, Global Events Manager at GoPro. "They provide a clean, simple and streamlined way for attendees to enter GoPro's daily giveaway."
To serve the various needs of their event show marketing, the GoPro iPad kiosks derived from a mixture of ArmorActive products to fit GoPro's desired outcome. These include floor stands from ArmorActive's Sentinel and Radius lines and Tilt & Swivel wall mounts, all using ArmorActive's key-locking Full Metal Jacket enclosures to secure the iPads. GoPro took the ArmorActive kiosks to another level by branding the kiosks with their logos and other brand elements to assist further in attracting visits to their booths.
"Because the GoPro camera is known for its versatility and mobility, GoPro needs to reinforce their message with an innovative visual presence at any event," says Nick Ames, Marketing Director at ArmorActive. "iPad kiosks featuring user-interactive elements is a very relevant way to communicate this message to GoPro's customers."
ArmorActive is proud to be a part of GoPro's trade show and event marketing strategies, and they look forward to the future opportunities to be GoPro's iPad trade show and event security solution of choice.
About ArmorActive
ArmorActive is the largest provider of iPad kiosk security hardware in the world. Unique in the industry, ArmorActive provides a team of Account Managers to help customers make the best decisions at all stages of their tablet based projects, from procurement to implementation and customization options. ArmorActive products are available on http://www.ipadenclosures.com
About GoPro
GoPro makes the world's most versatile cameras, enabling people to capture immersive and engaging photo and video content during their favorite activities. GoPro's HERO line of wearable and gear mountable cameras are used collectively by more consumers, professional athletes and video production professionals than any other camera in the world. Based in San Mateo, California, GoPro's products are available in stores across 100 countries worldwide and through GoPro.com.