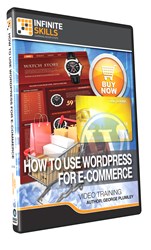 Learn How To Use WordPress To Sell Online
(PRWEB) December 13, 2012
Software training firm InfiniteSkills Inc. last week released its "How to Use WordPress for E-Commerce Tutorial," a course designed for website developers and designers who use the popular WordPress content platform and would like to integrate a store or other commerce-related features.
WordPress is currently the world's most popular content management system, but it does not include a shopping cart system in its native format. According to course author and experienced web-designer Gary Plumly, while this may seem to be a disadvantage, it actually means web designers have more options for integrating and customizing e-commerce elements.
"Using WordPress means you are not committed to a single way of doing e-commerce," Plumly says. "You can make WordPress do pretty much whatever you want using plug-ins."
For instance, not only can they choose whether or not to include a PayPal button, web designers can also decide exactly how one would best be integrated into their site.
As Plumly explains, WordPress itself is only a barebones system, but it can be customized to your own ends using the many available commerce-related plug-ins.
How To Use WordPress for E-Commerce Video Training - DVD
Plumly has more than 15 years' experience in web design and development for small businesses and individuals—"Going way back," he says, "to the days when we were hand coding everything." He is the author of a "24-Hour Trainer for WordPress," and "100 Questions to Ask Before You Build a Website." He currently runs a free WordPress help site, and teaches in person and online at the WordPress Academy.
Plumly brings his technical insight along with a keen understanding of what is most important to students gained from an extensive teaching career to the How to Use WordPress for E-Commerce Tutorial. After explaining the basics of how WordPress can be customized with plugins, Plumly explains how to set up a system for single item selling. He then goes into creating a shopping cart and how to implement key plugins for fast, simple use by web customers, including purchasing systems for digital downloads,
Plumly then covers three popular e-commerce plugins, the WP E-Commerce plugin, the Jigoshop plugin, and the WooCommerce Plugin, all of which offer different takes on the processes of running a shopping cart system including organizing products, checkout processes, and automated customer order reports, among many other key features.
"The great thing about using WordPress for commerce is that you only need one program," Plumly says. "You don't have to learn two different interfaces for your content management program and a store program, it's all in one package. And when it comes to user interface, WordPress has one of the best—people quickly learn to use it and then keep on using it."
Free demo videos and a full list of course contents can be found on the How To Use WordPress for E-Commerce Tutorial training page on the company website:
http://www.infiniteskills.com/training/how-to-use-wordpress-for-e-commerce.html
InfiniteSkills offers the How To Use WordPress for E-Commerce Training Video either as a DVD or a direct download from the company website at a retail price of $99.95. InfiniteSkills tutorials are compatible with both Mac and Windows operating systems. Shipping is available around the globe. Additionally, InfiniteSkills tutorials are supported by project files which correspond to examples in the videos.
About InfiniteSkills Inc.
A leader in the field of software training, InfiniteSkills designs its courses on a task-oriented model, teaching complex skills by providing hands-on examples and guiding users as they carry out essential functions. InfiniteSkills offers a wide range of software titles available as DVDs, digital downloads, and in iPad editions, keeping with company aim of delivering professional training to customers anywhere they want to learn.