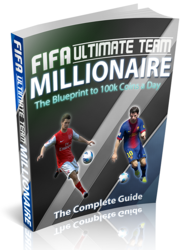 (PRWEB) December 11, 2012
The latest installment in the popular FIFA entitled "FIFA 13" has been out for a few months now and has seen extremely high unit sales since its release. One of the more popular features is the game mode Fifa 13 Ultimate Team.
FIFA Ultimate Team is a bit different from most types of game modes players may have seen in the past, but can be compared to the Madden Ultimate Team mode seen in that franchise. How it works is the player is able to build a team by opening "card packs" and using players received from those packs.
This is where a major competitive aspect of the game resides, and as with any game there are a lot of different tips and tricks that can be utilized to excel past opponents. Everyone wants to be the best, and it all starts with team structure in FIFA 13 Ultimate Team, which is directly impacted by the amount of packs players can purchase.
Despite the fact that the game has been out for quite some time now, many diehard FIFA 13 Ultimate Team enthusiasts still lack some of the crucial easy to use knowledge that can improve a team greatly. Some of the easiest little things can spring players from the bottom of the leaderboard all the way to the top.
Many of the secrets are revealed in a guide called FIFA Ultimate Team Millionaire, written by Mike Maranda who is well known in the FIFA Ultimate team community for being one of the more dominant players. He has composed a guide that works extremely well for both beginners and pros , as it provides an easy to follow step by step process on the "trading" aspect of the game.
His FUT Millionaire guide includes many different strategies as well as lists which show players to focus on trading as well as prices at which they are the most profitable for a purchase or sale. On top of that players are able to watch him doing trades to get an ever better idea of how the whole system really works.
There are two aspects to this guide for FIFA 13 Ultimate Team, first there is the Ultimate Team Millionaire Guide which will show a guaranteed 100k gold per day method, as well as a trading guide, trading videos, buying lists, and many various other tricks.
Second, there is the Ultimate Team Domination which is a guide to teach players how to take advantage of other player's weaknesses, professional strategies, building a rock solid defense, and a general overview of building a dream FIFA Ultimate Team.