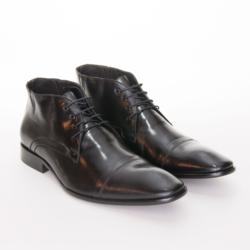 You can't go wrong if you stick with some items that should already be in every man's wardrobe, staples of what is considered men's clothes.
Palm Beach, FL (PRWEB) December 14, 2012
Gussying up for the holidays, the mere thought is enough to make most men wish it was July, or any other month but December. Fortunately, there are plenty of stylish options for men to look their best during the holiday season.
Before starting to unpack the red and green reindeer's sweater, FashionMenswear would like to offer a few timely tips.
There's no going wrong when sticking with some items that should already be in every man's wardrobe, staples of what is considered men's clothes. Here are a few notable mentions:
The cashmere sweater: not only it will keep anyone warm without much added bulk, it adds a polish to the look with its velvet-like smoothness and plush feel.
Wool slacks: If you live where the weather is cold, wool pants are an excellent choice. They will keep anyone warm and provide a degree of structure which results in a dressier look. If the weather permits, lighter dress pants of a dark color will do the job. A well cut overcoat is an excellent way to finish off the look and keep warm. It makes anything - even a pair of jeans - look dressy, and it layers nicely over sweaters.
Of course, if the occasion requires it, a dark men's suit, will always do the trick. Stay away from novelty ties but do add a splash of color with a pocket square and maybe a scarf. If you have a pair of cufflinks, wear them, and, needless to say, a well polished pair of Oxfords or any quality leather shoe is essential for the dressed up look.
FashionMenswear has seen a spike in the use of men's dress boots for the holidays. There still is a refined look while maintaining an urban vibe while wearing them.
In a very casual workplace, wool trousers or heavier-weight khakis and a tucked-in striped or plaid button-down shirt are good choices. Roll up those sleeves at the office, then add a blazer for the party.
Ah the blazer, unquestionably the most versatile garment and a clear winner for the Christmas parties! Make a statement with any of the fabulously sleek fabrics or an unusual textures such as brocade in which they're available. Yes it's about shimmer, black, burgundy, metallic, and paisley. One might even try a more debonair approach by adding some velvet to your look. A velvet blazer thrown over a basic top is a "holiday-only" look worth considering. Pair it with a black shirt or any other solid color. The key here is to make sure the color is right.
FashionMenswear reminds its customers that there is no other time of the year in which we have so many opportunities to dress up for the people we love, we work with or quite simply wish to impress. Don't waste them or, more importantly, don't strike the wrong note in this ever so important time of the year. Go to FashionMenswear.com and learn what's new and exciting in men's fashion today.