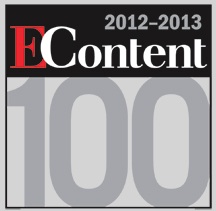 Our judges strive to recognize companies all along that spectrum, curating a truly representative list of companies making an impact on the digital content industry
Nashua, NH (PRWEB) December 12, 2012
HiSoftware, a provider of content-aware compliance and security solutions, has been named to the EContent 100 Lis t of leaders in the digital content industry. This is the company's first time making list, in which a panel of eight judges named HiSoftware a leader in the Web Content Management category.
"The econtent industry changes from day to day. From one year to the next, it's hardly recognizable, but there are some companies that manage to change with the industry, earning a spot on the EContent 100 year after year. And then there are the upstarts—the companies that see a need within the industry and work to fill it. Our judges strive to recognize companies all along that spectrum, curating a truly representative list of companies making an impact on the digital content industry," said Theresa Cramer, Editor, EContent.
Enterprises and government organizations struggle with the ever-growing demands of unstructured content, especially as the collaborative nature of web content management systems put this information out in the open. This has the potential to expose organizations to risk, ranging from accidentally releasing social security numbers to announcing financial information too soon. With regulators creating stringent and sweeping legislation and regulations to govern content, organizations are faced with the burden of bringing their rapidly expanding content into compliance to avoid costly violations. HiSoftware's solutions are designed to help organizations avoid these problems.
"It's been a banner year for HiSoftware when it comes to industry recognition," said HiSoftware CEO Kurt Mueffelmann. "Not only have we been recognized by the likes of Econtent Magazine for our work in the content industry, but also by the broader technology industry, organizations in the SharePoint ecosystem, and even the New Hampshire business community. This demonstrates how hungry people are for a way to secure digital content and make it compliant with government regulations and internal policies."
About HiSoftware
HiSoftware provides content-aware compliance and security solutions for the monitoring and enforcement of risk management and privacy guidelines across digital environments. The company's solutions provide a data governance and compliance platform for content management and collaboration processes that support corporate and brand integrity, site quality, accessibility and confidentiality for public websites and portals, as well as internal intranets and SharePoint sites. HiSoftware's customers include some of the largest US and international government agencies, as well as Global 2000 companies. For more information, visit http://www.hisoftware.com or follow us on Twitter @HiSoftware.
About EContent
EContent magazine focuses on the business side of digital publishing, media, and marketing, targeting executives and decision makers in these fast-changing markets. By covering the latest tools, strategies, and thought leaders in the digital content ecosystem, EContent magazine and EContentMag.com keep professionals ahead of the curve in order to maximize their investment in digital content strategies while building sustainable, profitable business models. EContent magazine is a publication of Information Today, Inc.