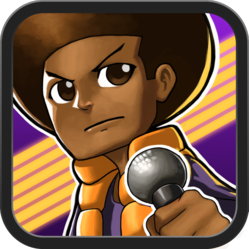 "Growing up, hip-hop was something that got me through the pains of being a teenager, but it was fun as hell, too. The Music Biz takes a lot of what people love about hip-hop and morphs it into a game." --- Sudz Sutherland
New York, NY (PRWEB) December 12, 2012
Hungry Eyes Film and Television Inc. and XMG Studio Inc. have teamed up to release the unique mobile gaming app, The Mu$ic Biz™. The Mu$ic Biz™ is a new cutting-edge mobile game app that marries the hip-hop music world with the gaming universe. Taking the mobile game experience to the next creative level, The Mu$ic Biz™ allows aspiring artists and music enthusiasts alike the opportunity to build their own music label from scratch. Set to drop on December 12th, just in time for the holiday season, gamers can become virtual music moguls.
In this digital world, players are hip-hop impresarios like Russell Simmons and P. Diddy, Puff Daddy or Sean John. Players can sign fictional artists, manage their careers, produce and sell music by mixing tracks within the game, and they can even collaborate with real-life hip-hop producers.
The Mu$ic Biz was developed by Sudz Sutherland, co-founder of Hungry Eyes Film & Television, and the award-winning game developer XMG Studio, which recently released the Ghostbuster Paranormal Blast, the first augmented reality Ghostbusters game. Sutherland has written and directed numerous award-winning films and television dramas.
With the debut of the game, Sutherland is creating a new generation of mobile gaming application aimed at savvy digital consumers plugged into the hip-hop music scene.
"Growing up, hip-hop was something that got me through the pains of being a teenager, but it was fun as hell, too. The Music Biz takes a lot of what people love about hip-hop and morphs it into a game." --- Sudz Sutherland
XMG has also crossed a new bridge. "When we partnered with Hungry Eyes on this project, our collective goal was to merge high quality music content, from renowned international artists, with the exploding world of mobile games and bring the best of both together: Music and Gaming," says Ray Sharma, Founder and President of XMG Studio Inc. "It is an original and new first step into endless possibilities of cross-promotion between the music and gaming industries."
The goal of The Mu$ic Biz™ is to engage users throughout the music-making process as they sign new artists, create platinum-selling records, sample music, go on tour, and market their artists. The user takes on the role of founder and CEO of a new record label, and is responsible for building their label from inception to superstardom. Ultimately, the goal of the game is to build an empire by signing the most artists, building the greatest number of fans and making a ton of money!
The Mu$ic Biz™ offers a unique experience that allows players to produce tracks by mixing beats within the game -- and giving the fictional artists the option to collaborate with the music of real-life producers, including BADBADNOTGOOD, Jake One, Frank Dukes, Marco Polo, Mr. Porter, MoSS, Rich Kidd and Ryan Hemsworth, whose beats are all featured in the game. A number of these very producers, who work with the industries rising stars such as Tyler the Creator and Casey Veggies, and established rap veterans, such as 50 Cent and Ghostface Killah, are now available to gamers themselves.
The Mu$ic Biz™ is a new experiment in mobile gaming that combines the best in the gaming world with the best of the music business. The Mu$ic Biz™ will be available on December 12th, 2012 on iTunes.
For more information, please contact Michelle Pascal at 917-715-3659 or michelle(at)mapunlimitedpr(dot)com. Check us out on Facebook at urthemusicbiz and Twitter @urthemusicbiz.
About Hungry Eyes Film & Television
Hungry Eyes Film & Television, co-founded by the husband-wife team of Sudz Sutherland and Jen Holness, tackle subjects that are cross-cultural, cross-genre and cross-media. Hungry Eyes has done pioneering work with hard-hitting films such as Home Again, a film about people deported to Jamaica from their adopted countries for minor criminal offenses, which premiered at the Toronto Film Festival in 2012; and Guns, a television mini-series starring Colm Feore and Elisha Cuthbert.
As filmmakers, Hungry Eyes has brought a fresh and authentic perspective to cultural, economic and political issues in film. Now, the duo is focused on developing content for mobile users in the black and Hispanic communities in North America -- considered the fastest growing demographics in the new technology space. "We developed this game for lovers of hip-hop," says Sutherland, "and that's a larger group of people who are beyond a narrow racial definition." The rise of online music and mobile gaming has brought a generic approach to content -- standardized racing and shooter games that appeal to the widest possible audience. But as audiences drift further away from the computer screen and use the mobiles as entertainment devices, Sutherland sees an opportunity to develop mobile content that targets specific cultural audiences: "This kind of content falls below the radar screen of most companies."
About XMG Studio
XMG Studio Inc. is an award-winning developer of mobile games with world-renowned technical, creative and production capabilities in the art of providing original expression through gameplay for all fans of fun. The company has released 12 mobile games in various genres targeting casual game players of which seven games have in excess of one million installs and several have won Best App ever industry awards for best in class. Named as one of the top global mobile games developers to watch by industry media, XMG has a track record of innovation excellence including the creation of several sub genres within the mobile gaming ecosystem.