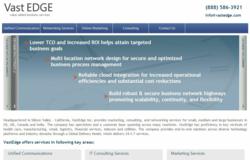 There's tremendous growth opportunities in Auto and Fashion says Ravi Bhatt - former Director at eBay
Santa Clara, CA (PRWEB) December 12, 2012
Headquartered in Silicon Valley, California, VastEdge Inc., a fast growing technology company enhances it's eCommerce offering as part of its wide portfolio by venturing into automobile vertical and has appointed Ravi Bhatt as advisor for their shopping line of business. VastEdge offers IT Consulting, Unified Communications and Online Marketing solutions to small, medium and large businesses.
Ravi Bhatt has a rich experience of more than 20 years in the IT industry. Ravi worked at eBay as Director for 7 years bringing in product management and leadership experience in eCommerce. Most recently Ravi worked as Director at oDesk managing business operations focusing on trust management. Prior to that Ravi was working with KPMG, providing management and IT consulting to Fortune 500 companies. He brings a wealth of expertise in business/product strategy and product design that will be key for VastEdge Inc's online shopping and auto venture to be successful.
About VastEdge
VastEdge provides IT Consulting, Unified Communications, and Online Marketing Services. Their cutting-edge IT services such as Mobile Application Development, E-commerce Solutions, and CMS for small and large businesses. Unified Communication services offered by VastEdge include deployment of Cisco and cloud based pbx systems integrating CRM applications and jabber. Their marketing and shopping services offer comprehensive and innovative performance based marketing solutions.
VastEdge also provides discount shopping experience to consumers primarily through CouponAlbum.com and now expanding into automobile trading through AutoComb.com