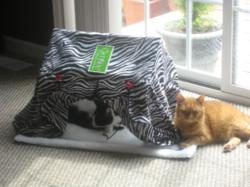 I would give all my scratch for a Gypsee!
(PRWEB) December 13, 2012
This new pet product has it all. Designed and hand crafted in the US available today at http://www.smoochdoggie.com.
Choose from either a bold Zebra print or the laid back Hippie tie-dyed print that will make a great impression on any kitty or small dog that this special hangout is designed for them.
"Our cats still love paper bags to romp around occasionally, but having an attractive option in our home has been a great alternative for us," says designer Mike Faiola.
Keep pets intrigued and let them experience a cool place of their own that gives them a place to hide and still be noticed. The sides are draped with openings all around will not restrict access either coming or going, a real plus when planning a surprise attack or taking a lazy nap.
The Gypsee® is a hide-and-seek paradise that is easily taken from room to room to inspire and intrigue. The see-through fabric and vents allow your pet to keep a watchful eye on outside activity, and have some privacy at the same time.
The Gypsee® was inspired by observing how cats are attracted to areas where they can crawl inside and still be noticed. Our goal is to appeal to these traits and provide a safe environment for play or naps and at the same time make it fun and interesting to display in any home.
The Gypsee® is sturdy, portable and multifunctional making a great choice for everyday use.
Designed to appeal to a cat's natural instincts the Gypsee® will provide years of enjoyment for pets and owners too.
Please visit http://www.smoochdoggie.com to learn how to get a Gypsee.
If you'd like more information about this product, please call Mike at 301-606-8673 or email at info(at)smoochdoggie(dot)com