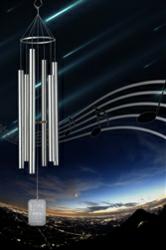 Orders for the Small Stardust Windchime are currently being accepted to be shipped in time for any 2013 New Year's Eve events.
California (PRWEB) December 27, 2012
Eco Wind Chimes is selling a great gift to welcome 2013. The company's American made and sourced wind chimes will literally help people "ring in the New Year" and they make a perfect gift for the host of any related events and parties. Eco Wind Chimes' has many products that complement the ringing in of a New Year, but the company's Small Stardust Windchimes are a perfect match.
"I have many clients who use wind chimes as an annual tradition gift on New Year's Day. Each wind chime is usually personalized with the date of the New Year. I wanted to share this tradition for newly formed families or those looking to adopt a new custom," said Stephen Betzen of Eco Wind Chimes. "The Stardust Windchime product is , like all of our products, hand crafted and uses only the finest harmonically tuned aluminum tubing."
Orders for the Small Stardust Windchime are currently being accepted to be shipped in time for any 2013 New Year's Eve events. The price starts at $89.98 dollars and a sample of the wind chime's tone can be heard by clicking here: http://www.ecowindchimes.com/Stardust-Small-Windchimes-p/6s.htm
"Receiving a gift of a wind chime is like receiving a gift of total relaxation. I hope many people adopt the annual wind chime gifting tradition that some many of our customers currently celebrate. The chimes are a nice way to kick-off a stress-free 2013."
About: Eco Wind Chimes was launched in 2005. The soothing products produced by Eco Wind Chimes match the company's dedication to quality workmanship, affordability, and purposeful retail. All Eco Wind Chime products are made, and sourced, in the USA. More information, and a media kit, can be found by clicking here: http://www.ecowindchimes.com