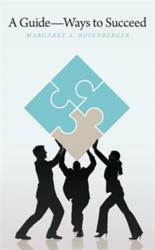 "'A Guide – Ways to Succeed" covers many subjects for ways to have a good life and to be successful," says Rosenberger. "No one ever really wants to be a failure, and this book is an easy read."
GAINESVILLE, Fla. (PRWEB) December 13, 2012
In her new book "A Guide – Ways to Succeed" (published by Inspiring Voices), author, musician and veteran teacher Margaret A. Rosenberger uses poetry as a tool to teach life skills.
"A Guide – Ways to Succeed" is a book of character building poems. It covers the everyday experiences of the average learner, offering these readers different opinions and options in solving their problems. Drawing from her extensive experience as an educator, Rosenberger provides motivational tools for additional study and information, leading readers to a positive change of pace for a successful and happy life.
"'A Guide – Ways to Succeed" covers many subjects for ways to have a good life and to be successful," says Rosenberger. "No one ever really wants to be a failure, and this book is an easy read."
Rosenberger uses rhythm and rhyme to explore delicate and sensitive issues, and she is careful to make the book appropriate for youth from various perspectives. She says, "The book covers ways the book can be used at home, as supplementary material in the classroom, in religious institutions and in prisons or juvenile detention facilities."
"A Guide – Ways to Succeed"
By Margaret A. Rosenberger
Softcover | 5 x 8in | 198 pages | ISBN 9781462402762 |
E-Book | 200 pages | ISBN 9781462402755 |
Available at Amazon and Barnes & Noble
About the Author
Margaret A. Rosenberger has been writing poetry since she was 10 years old. As a fifth-generation native of Florida, she served for 32 years in education and found that when rhythm and rhymes are used in instruction, the information gleaned by the learner is more memorable than that of usual prosaic form. She is a member of her church, Delta Kappa Gamma, Altrusa International Club of Gainesville, Alachua County Retired Educators, (FREA) Florida Retied Educators Association, (NARFE) National Association for Retired Federal Employees, (ASCAP) American Association of Composers, Authors and Publishers and a member of The Eastern Star.
Inspiring Voices, a service of Guideposts, is dedicated to helping authors share their words of hope, faith and inspiration with the world. A strategic publishing partnership with indie book publishing leader, Author Solutions, Inc.; Inspiring Voices allows authors to publish inspirational and spiritual books without respect to their specific doctrine, denomination or political point-of-view. Authors published through Inspiring Voices benefit from access to exclusive Guideposts marketing services, with select titles appearing in a special collection at Guideposts.org. For more information on publishing with Inspiring Voices, log on to inspiringvoices.com or call 866-697-5313.
###