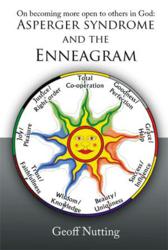 Castlemaine, Australia (PRWEB) December 13, 2012
Is Asperger's Syndrome a disability or a difference? The Diagnostic and Statistical Manual of Mental Disorders (DSM) of the American Psychiatric Association 5th edition is scheduled to come out in May of 2013 and author Geoff Nutting has good reason to be believe that it may re-classify Asperger's as an autism disorder. Nutting's new book On Becoming More Open To Others In God: Asperger Syndrome And The Enneagram, aware of this development, seeks to open the door to those afflicted with Asperger's for a way back into normality, unshackled from its previous status as a psychiatric disease. The term "psychiatric disease" has a negative effect on the way society treats those afflicted with the same. His thesis on "difference" or untypical personalities involves the study of "the alliances and conflicts it entails in human relationships, and how we may grow, spiritually, in the art of doing justice to others and to ourselves."
The 1994 DSM edition judged Asperger's Syndrome as a disability. It became the wave of the near future for psychiatrists. A whole field of specialists sprang up to treat the psychiatric disease. The prospect now is of its being dumped, in the 4th edition, into the generalised category of "autism spectrum disorders". The author commends a sophisticated model in spiritual psychology with which to help people in general to "honour duly the aspirations and insights of persons markedly non-average or `untypical.'" Controversial over the last quarter century, but still growing in secular influence, this road-map is called the Enneagram of Personality. Whether Asperger's is a disability or a difference is not the point. The fact that psychiatric rules and viewpoints greatly affect those with untypical personalities mostly in a negative way, is.
The DSM also downgraded homosexuality in almost the same way. The practice of witchcraft, according to a famous psychologist's study on the subject, became symptoms of psychiatric diseases – a way for the medical establishment, in support of society's authorities, to continue the auto-da-fé. Nutting's work is laid down along the same lines. Asperger's Syndrome and other such psychiatric diagnoses have become in part a way for the medical establishment to rule out the rights and dignity of a significant portion of the population. It is not true healing but a way of control. Although the author is working against a system less damning than witch hunts, the acceptance of his therapeutic process of helping those with untypical personalities and changing the way society sees them, is a crucial test of whether the medical establishment has come out of its medieval authoritarian mindset and has fully come to the enlightened practice of the Hippocratic oath.
For more information on this book, interested parties can log on to http://www.Xlibris.com.au.
About the Author
Raised in England, Geoffrey Nutting was educated in musicology at Durham University and theology at Oxford University. A promising career as musicology academician in Nigeria, then Australia, was cut short. Sinking into 'bi-polar depression', he retreated to calmer work: rare book cataloguing. Sudden recovery and intensive reskilling facilitated his continuing life focus and third career: academic mental health research and practical pastoral care. He renews frequently through deep peace at a Cistercian monastery. From his first thirty-year marriage, Geoff has two children and four grandchildren. He, and his later wife of sixteen years, share in performing chamber music and in befriending marginalized people.
On Becoming More Open To Others In God: Asperger Syndrome And The Enneagram

Publication Date: November 6, 2012
Trade Book; AU$29.99; 257 pages; 978-1-4771-1558-9
Trade Book Hardcover; AU$49.99; 257 pages; 978-1-4771-1559-6
Ebook; AU$3.99; 978-1-4771-1560-2
To request a complimentary paperback review copy, contact the publisher at 1-800-618-969. To purchase copies of the book for resale, please fax Xlibris at (02) 8282-5055 or call 1-800-618-969. Xlibris books can be purchased at Xlibris bookstore. For more information, contact Xlibris at 1-800-618-969 or on the web at http://www.Xlibris.com.au.