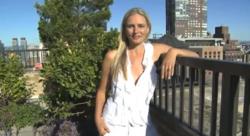 3, 2, 1 Love Launch! Watch, Help and Be Gifted Love Around the World Today and as a Beautiful Beginning to the Holiday Season.
Los Angeles, CA (PRWEB) December 12, 2012
Back in the fall of 2010, SacredLove.com's founder Karinna Kittles-Karsten decided to take off to Europe with her husband and Jack Russell terrier. They were on an adventure to do something she had wanted to do for several years, produce a TV show focused on discovering love and romantic secrets throughout some of the most amazing locations around the world. Think "No Reservations" meets the real "Eat, Pray, Love." With only an HD Flip camera in hand and incredible curiosity to explore cultural love attitudes, stories and customs. Karinna succeeded in documenting over 10 hours of footage in 6 countries including France, England, Belgium and Italy. The show captured the world's best aphrodisiacal chocolates in Brugge, Casanova's real escapades in Venice, hidden romantic destinations in the South of France, art that shapes sexual attitudes in Zurich, adventurous date tips in London and fascinating love stories in every locale.
Karinna Kittles-Karsten's crowdfunding campaign will go to support the production and launch of The "Love Around the World" webtv series on her channel, Sacred Love TV. "We want to open hearts and minds to the incredible power of love and intimacy, that is present in the world that we don't see or hear about," says Karinna. During each step of the journey Karinna will discover local love stories, captivating romantic destinations, compelling region-specific love practices and exciting dating insights that her viewers can experiment with from the comfort of their own home. Love Around the World is designed to inspire viewers who are interested in discovering more about love and romance throughout the world.
The "Love Around the World" TV show is created to inspire and help each of us refocus on love and how romance and intimacy can support us in having our best love lives right now, exactly where we are.
To learn more about Karinna's quest for "Love Around the World" and find out how you can participate in her crowdfunding campaign please visit the When You Wish site for Love Around the World here.
"Like Us" on Facebook
"Follow Us" on Twitter
"Pin Us" on Pinterest
Media Contact:
media(at)sacredlove(dot)com
Jennifer D Hashisaki
520-280-4104