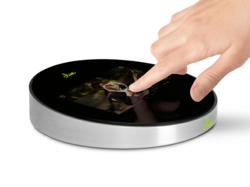 Crowdfunding is not the typical modus operandi for an established company," said Dr. Oliver Bergmann, co-founder and CEO. "However, the idea behind Olive ONE is big, and we believe that the platform will redefine how we enjoy music at home."
SAN FRANCISCO, CA (PRWEB) December 12, 2012
Revered by audiophiles and music lovers the world over, Olive Media Inc.®, today introduced the Olive ONE, the first all-in-one high definition (HD) music player. In support of the Olive ONE, the company today also launched the first-ever crowdfunding campaign to provide the public with the opportunity to significantly influence the product's development and design outcomes.
Through popular crowdfunding site Indiegogo, Olive welcomes music lovers, app developers and artists alike, to not only contribute to the product financially, but to shape the end-result by suggesting features, voting on them, developing apps for its open platform, and inputting on the long-term product roadmap.
The Olive ONE is a visually stunning touchscreen device that helps people better store, organize, access and enjoy their music at home, and is expected to be offered in summer of 2013, for $399.
Known for exceeding the demands of discerning music lovers with top-quality music servers, Olive opens up the high-end market to consumers with this affordable, first-ever all-in-one high definition (HD) home music player.
"Crowdfunding is not the typical modus operandi for an established company," said Dr. Oliver Bergmann, co-founder and CEO. "However, the idea behind Olive ONE is big, and we believe that the platform will redefine how we enjoy music at home. We need the direct involvement of users, artists and app developers to get there."
Olive's crowdfunding campaign is live today, with an expected completion date of February 1, 2013. The product has been in development for over one year, and a working pre-production prototype is completed. Given this substantial progress, raised funds will be used to buy specialized tooling equipment and enhance Olive's build-to-order manufacturing capabilities in San Francisco.
"Traditionally, music lovers haven't had much voice or choice regarding how they're able to enjoy music at home," said Robert Altmann, co-founder and SVP of Business Development. "The Olive ONE changes this. We involve our crowdfunding supporters, and customers, directly in key decisions, from features to design aspects, and other exciting choices. The ONE even has a direct feedback button built-in, so users can continue to help us evolve the player post-launch."
Because established companies don't typically turn to crowdfunding, this is a campaign with a twist. Crowdfunding, which better connects companies to customers, supports the Olive mission of making truly crowd-powered products.
The potential of products powered by the crowd will become evident in surprising ways once the Olive ONE, with its open platform, is in homes, and continues to seek participation from music lovers, artists, and others, through its open software architecture. Imagine a service where artists can get music projects funded through the Olive ONE, for example.
For now, music lovers can get their feet wet by joining the Olive ONE crowdfunding campaign to weigh in on what speakers, light boxes, skins, custom covers, applications, far out features, and so on, they're craving.
In exchange, supporters will not only be given the unique opportunity to weigh in on the development process, but will be first in queue to receive players once they ship. They'll also be awarded gift cards just for participating.
Also, giving the gift of crowdfunding is sure to be in vogue this holiday season. Olive makes it easy for creative gift-givers to purchase participation in the campaign on someone else's behalf, allowing them to get perks like Olive gift cards under the tree, or even an Olive ONE in the summer.
The Olive ONE press release, "Olive Announces Worlds-First All-in-One Home Music Player," provides additional product information on the player, while a video can be found at, http://youtu.be/ddqw6BmKQok. Images and the Olive ONE Spec Sheet can be found at:http:// http://downloads.olive.us/Olive_ONE_press_kit.zip.
Press Contact:
Olive Media Inc.
Susie Marino
susie.marino(at)oliveHD.com
(415) 613-9138
____________________________________________________________________
About Olive Based in San Francisco, Olive has developed state-of-the-art HD Music Servers and Systems since 2005. Olive's elegant and innovative solutions have won numerous awards, earned a wealth of media accolades and found a loyal fan base around the world. With the introduction of Olive ONE, the world's first all-in-one HD music player, powered by the crowd, Olive brings audiophile sound quality to everyone, and evolves into a next-generation development and design center. A crowd-powered company, Olive actively brings music lovers, artists and developers into the design and development process. For more information, and to participate in revolutionizing the world's music experience at home, please visit us at http://www.myoliveone.com.
Trademarks Olive and their respective logos are registered trademarks of Olive Media Inc. Other company and product names may be trademarks of their respective owners.