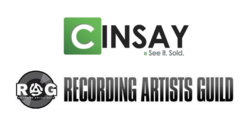 I love how fans can view my music video and my merch products all at the same time, thanks to Cinsay's new technology!
Austin, TX (PRWEB) December 13, 2012
Cinsay, a leader in social video commerce technology, announce today a seven-year partnership with the Recording Artists Guild (RAG). This agreement will bring Cinsay's Smart Store™ technology to thousands of bands, musicians and producers. In addition to the video commerce technology, music artists will also be able to create and sell customized branded products fulfilled by Cinsay On Demand.
"This deal represents the best promotion and social video eCommerce offering for any musician in the world. Whether you're a household name or just getting started, Cinsay's technology, coupled with the rich benefits of being a member of RAG, provide musical artists worldwide from Warren G to up-and-coming bands like NeoGeo, all the resources necessary to become successful in their music careers", said Christian Briggs, CEO & Founder of Cinsay.
And musical artists are the perfect fit for Cinsay's technology. "In the same way the Internet evens the playing field for artists to get their music out, Cinsay provides artists a vehicle to get their Merch out to the masses. The cool thing is that as the on-demand market grows, so does our commitment to both major and Indie artists allowing RAG and Cinsay to be part of their future. This partnership points to where the Music Industry is heading", said Byron Booker, Chairman & CEO for Recording Artists Guild.
Most artists find it difficult to monetize their video content online. iTunes can sell music videos, but after music sales, the biggest online revenue source for musicians is merchandise. In fact, U.S. sales for branded merchandise continue to rise each year and reached $2.2b in 2011. Some bands have participated in Cinsay's test launch and are thrilled about the opportunity. "I love how fans can view my music video and my merch products all at the same time, thanks to Cinsay's new technology!", said musician Zoe Ann, and also member of RAG.
Terms of the 7-year agreement include an exclusive arrangement where RAG will include Cinsay's technology into each current RAG membership, promote Cinsay's video eCommerce platform and Cinsay On Demand services and Cinsay will host a co-branded page featuring each participating RAG member's Smart Store and channel page. Specifics of the deal for musicians include: A branded Smart Store™ account and playlist, custom inventory and fulfillment from Cinsay On Demand, merchant account and analytics, content to be featured and searchable on a co-branded MyCinsay website along with dedicated marketing support and customer service.
The two companies are scheduled to showcase the technology and feature participating artists during the SXSW Music and Media Conference, Saturday, March 16th 2013 . "The first annual Cinsay 'RAG To Riches' event is sure to be one of the highlights of the 2013 SXSW. We'll host the coolest party, the hottest bands, the baddest product sponsors and the nicest outdoor venue downtown. It's going to be one heck of an event", added Booker.
More information on Cinsay including how to register for a 30-day trial Smart Store™ account can be found at Cinsay's newly redesigned website. http://www.Cinsay.com
Details on becoming a member of the Recording Artists Guild can be found at: http://www.RAGORG.com
About Cinsay, Inc.
Cinsay has created a next generation social eCommerce, viewer interactive, video-based platform for any individual or size businesses. Cinsay's SaaS based technology enables everyone to sell products, services, capture donations, and generate leads all inside the patented Smart Store™ technology. Additional services available to individuals, SOHO's, enterprises and nonprofits, are Cinsay's complete turnkey business solution via exclusive on demand, made to order merchandise featuring hundreds of personal, brandable products like t-shirts, caps, mugs and iPhone covers available at CinsayOnDemand.com. Now, anyone can be in business within minutes with no inventory whatsoever. Merchants benefit from Cinsay's in-depth reporting tools and real-time statistical data. Cinsay's embeddable platform is compatible with web and mobile devices and is highly scalable via its enterprise-level hosting and distribution networks. Full video production is available through CinsayProductions.com. Cinsay aggregates and promotes merchant stores via its searchable consumer portal, MyCinsay.com. Notable clients include: GameFly, Neiman Marcus, Wet Seal, decompras, and California Closets. Forbes has named Cinsay as one of "America's Most Promising Companies" and by eTail Conferences as a "Rising Star" in innovation for 2012.
About Recording Artists Guild (RAG)
The Recording Artists Guild (RAG) was established in 2009 to promote and protect the interests of all recording artists both professionally, and personally. RAG provides members with important benefits, special discounts, opportunities and access to exclusive networking events, music showcases and workshops. Specific benefits of RAG membership include: providing opportunities for digital distribution on iTunes, Spotify, Amazon and other popular sites along with opportunities for placement, important business, legal, and medical services that are often unavailable to artists, social video eCommerce technology via Cinsay, along with personalized merchandise from Cinsay On Demand. Executive Members have access to top-tier services at immense discounts. Our corporate headquarters is located in the heart of Hollywood at 5825 Sunset Blvd Hollywood Ca 90028.