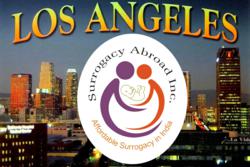 "We are going to California, many of our intended parents are taking this opportunity to make appointments for one-on-one meeting to understand what we offer and how we can help them in the surrogacy process."
Los Angeles, Calif. (PRWEB) December 12, 2012
Surrogacy Abroad Inc, a leading surrogacy agency, announces a meeting and individual consultation program for infertile couples, lesbians, gays, bisexuals, transgenders and singles on December 15th in California. Mandira Samson- CFO and Navya Samson-Program Director of Surrogacy Abroad will be visiting California for the meeting.
This event will help intended parents to get an opportunity to clear their doubts on in-vitro fertilization, and all procedures involved with gestational surrogacy. Along with this, couples have the chance to listen to personal stories / experiences about infertility, and clear queries about legal aspects and cost of surrogacy in India. Mandira and Navya will help the couples to understand the services provided by Surrogacy Abroad for them. Mandira explains, "Since we are going to California, many of our intended parents are taking this opportunity to make appointments for one-on-one meetings to understand what we offer and how we can help them in the surrogacy process." Navya and Mandira will be there on the weekend of the 15th and 16th of December 2012.
Surrogacy Abroad, Inc. was established with a mission of helping childless couples to realize and experience the dream of parenthood. Their mission is to bring surrogacy within the reach of the people, so that it is cost-effective and affordable. At Surrogacy Abroad, intended parents will be able to benefit by the expertise of some of India's most experienced IVF doctors who work with the latest technology and facilities provided by their clinics. The clinicians are focused on providing an eternally rewarding experience to the intended parents.
In addition, Surrogacy Abroad already started the online consultation for the LGBT community and for infertile couples, where they can directly interact with other intended parents online and by visiting their native nations. The meeting and the consultation for the intended parents will be held at Los Angeles, California. Interested couples can attend this as they will explain the advances in reproductive technology, legal issues of surrogacy and many more related issues, as well as the services provided by Surrogacy Abroad.
About Surrogacy Abroad: Surrogacy Abroad Inc. is an international surrogacy agency based in Chicago, owned and operated by Benhur Samson, a native Indian and business entrepreneur. Surrogacy abroad offers a wide range of options to fulfill your dreams of parenthood with the well-equipped, state of the art infertility treatment in India.
For more Information: http://www.surrogacyabroad.com/