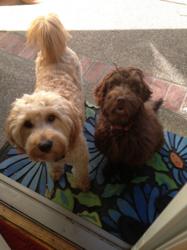 Man's best friend.
South Lake Tahoe, CA (PRWEB) December 14, 2012
Dog owners must make a difficult decision when travelling to South Lake Tahoe – should I bring my dog to a dog friendly vacation home or should he stay home. There are so many factors to consider, and this article will help the dog owner make the right decision.
Dogs love to travel, see new places, and have new experiences. No matter what mode of transportation is chosen, a trip to the veterinarian is in order to be sure that the dog is in good health. Be sure to bring the dog's health records and proof of rabies vaccinations to be on the safe side.
It's a good idea to have the dog leashed at all times. Be sure to help him adapt to his new surroundings, and try to keep him on a schedule that's as close as possible to his schedule at home. South Lake Tahoe has a lot of wildlife that would love to make a treat out of your pet. To prevent this, stay with your dog the entire time. Even if there is a large backyard with a fence, a coyote could easily jump over the fence and attack your beloved pet.
Good manners are important when you bring a dog on vacation. He must be able to obey basic commands such as sit, stay, come, and leave it. It's important that he will stop barking on command, and he should be comfortable around strange people and environments.
Travel to dog-friendly places in South Lake Tahoe such as beaches, parks, forests, and campgrounds, but call ahead to check on the policies and regulations regarding dogs. Be sure to double check if the vacation rental home allows pets and if there is an extra fee involved. South Lake Tahoe has many parks and trails that are pet-friendly. There is even a dog park in South Lake Tahoe that offers a section for smaller dogs or larger ones to play.
If the dog must stay at home, there are several options to choose from. A family member or friend who lives close by could stop by the house a few times a day to care for your pet. If you do this, be sure that the dog gets to know them with a visit beforehand.
There are also doggie day cares and boarding kennels. Be sure to check out the facility ahead of time by visiting for a few hours. It is also a good idea to stop by the kennel unannounced to see if the kennels are kept clean.
Pet sitters can come out to the house to feed, exercise, and spend time with the dog. Some may even bring in the mail and newspapers, while others may also housesit.
Traveling over the holidays in Tahoe should be exciting, fun, and festive and part of this excitement involves bringing a favorite pet. South Lake Tahoe Vacation Rental Homes offers Pet-Friendly rental homes for your furry friends. Also, there are many homes that offer Pet friendly accommodations in San Francisco.