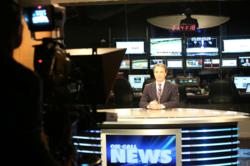 Hollywood, California (PRWEB) December 12, 2012
Publicists have a new cutting edge weapon in their arsenal that's being used to wage war in the battle against negative publicity, video news releases. A start-up out of Hollywood, California, has found a niche in the world of corporate public relations. On Call News has a fully staffed news studio that specializes in producing news segments for corporate and political clients that appear to originate from major news outlets. These segments are then used by On Call News' clients to suppress negative news or publicity during a PR crisis.
On Call News was started by a team of former and present news professionals who realized there was a need and a market for an editorial and production staff that could be available 24 hours a day when clientele such as a major corporation or a political campaign needed to get a point across or put a spin on negative publicity immediately. With their staff of professional anchors on call 24 hours a day, On Call News is able to offer an immediate fix to a client's negative publicity by producing custom video news releases that are instantly launched into all of the major search engines immediately populating the Internet as news.
Unlike traditional PR methods, On Call News' production staff exploits the power of public perception by utilizing video verses text. Their news segments appear to originate from major news outlets and can sway public opinion in a unique way. On Call News' clients enjoy the power of having a complete newsroom staff at their beck and call twenty-four hours a day. Stories can be written and produced within an hour of the client's request. Multiple versions of the same story are sent out across the Internet appearing to be from multiple different news agencies. Everything from the anchors to the customized news crawl and the station logos vary from clip to clip.
When an On Call News clip hits a video site such as YouTube, it appears to be an archived story from the international desk of a world news outlet, a local five o'clock broadcast, or even a live talking head debate featuring numerous guests and on-location interviews. With an endless array of on screen graphics and a deep catalogue of actual news anchors on their side On Call News really knows how to get their point across.
On Call News has most recently teamed up with the Search Engine Optimization Powerhouse All Access Placement to produce customized news clips for AAP's ever growing reputation management clientele.
Launched in 2012, On Call News has quickly transformed the world of public relations and Internet marketing.