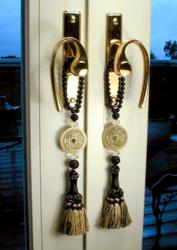 "Today's consumers want more from their home's decor, and that's why I design products with stories that add greater meaning to our living environments," says Barbara Bacigalupi
Napa, California (PRWEB) December 12, 2012
If you love to "finish" your home with tassels on keys, locks drawer pulls and more, then the new store at http://www.BarbaraBacigalupi.com will give you more than luscious eye-candy, by offering TRULYHUMANmedallions that combine semi-precious gemstones and hand carved medallions, thereby turning time honored tassels into lasting collectibles. The new site which features all the designs of its namesake, will be the first, and one and only place to see every available TRULYHUMANmedallion style and color. Known as "jewelry for the home to inspire the spirit," TRULYHUMANmedallions offer boomers and all busy intelligent women who are discerning shoppers for quality and value, an unprecedented adventure in shopping that is complemented by learning.
TRULYHUMANmedallions transform the always-popular decorative tassel, into high style art objects by adding the tassel to a central medallion (most often hand carved from new jade serpentine stone, black onyx, or other natural minerals) that presents an important symbol from Eastern or Western cultural traditions. The central medallion and its symbolism, provides inspiration for each TRULYHUMANmedallion's name, which represents an essential human sentiment such as peace, love, happiness, creativity, or tranquility along with an accompanying story card written by designer Bacigalupi to inspire the spirit. TRULYHUMANmedallions are always so much more than tassels, as their symbolism allows them to double as tools for personal relaxation and self-directed visioning.
Embellished with a beaded gemstone loop, TRULYHUMANmedallions make for easy decoration of door handles, drawer pulls, candles, and so much more. Tassels, now as part of a meaningful and well-balanced design composition, serve to finish the piece and provide a silky texture to contrast with the hard natural minerals surfaces. For those who like jewelry, this jewelry can be liberated from the confines of dresser drawers to be enjoyed all day, every day, by everyone in the household.
"Through this new site I can live out my desire to have TRULYHUMANmedallions reach many more women and their families by placing them in the context of a total learning environment that maximizes the significance of the beads as tools for envisioning a better life," comments Bacigalupi,. It is only because of the internet's vast capacity for content, that this is achievable," concludes Bacigalupi, who is also a strategic visioning consultant having advised businesses and organizations for more than two decades.
There is duality in the way these humanizing decorative accessories are presented at BabaraBacigalupi.com. The usual web-based shopping cart technology, is coordinated with an extensive content-based learning site called INFO+. This information center adds to the value of TRULYHUMANmedallions and the total shopping experience, by facilitating the exploration of the genesis of TRULYHUMANmedallions, the significance of their featured gemstones, and simple relaxation techniques using The Daily Practice and Self-Directed Visioning developed by Bacigalupi. Flash magazines feature the text of the motivational story cards side-by-side with each style's colorways so that shoppers can leisurely make their selections before entering the store to make purchases. There's even a magazine dedicated to providing Design Ideas for decorating a home with TRULYHUMANmedallions.
Until their debut at BarbaraBacigalupi.com, TRULYHUMANmedallions have been a well kept secret enjoyed by the customers at a limited number of select boutiques, design studios, and spas.
Special value pricing (20-30% off retail) will be available for all TRULYHUMANmedallions purchases throughout the launch of http://www.BarbaraBacigalupi.com. In Celebration of the holidays six of the most popular sentiments: Good Health, Royal Peace, Crystal Friendship, Longevity, Love and Hope are being featured for $49.00 (regularly $90-120.00 retail). All TRULYHUMANmedallions are strung by hand in Northern California, using components collected from throughout the world.
ABOUT THE COMPANY
The new website and store at http://www.BarbaraBacigalupi.com is a part of UMANO, named for the Italian word meaning human, humane and compassionate, which was founded by Barbara Bacigalupi in San Francisco in 1997. As a concept-based company, its purpose is to serve as a vehicle for the publication of Bacigalupi's writings and the production/marketing of her design lines.
COMPANY VISION
We are inspired and guided by a vision of our world in which we become ever more human, humane and compassionate. We are dedicated to participate in this vision by combining works of nature with the work of the human hand to create products accompanied by learning messages which bring consumers closer to their personal humanity and individual giftedness within a framework that affirms positive and worthy human values.